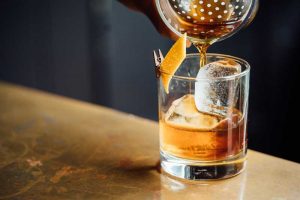 Following research conducted with leading trends and insights consultancy, Dynata, Distill Ventures (DV), the world's first independent drinks accelerator, has released a study[1] exploring New World Whisky. The report, written by global whisky expert Becky Paskin, is available online, and follows DV's New World Whisky Virtual Summit held on September 10. You can view the full summit here: https://distillventures.com/insights-and-trends/new-world-whisky-summit.
DV has defined a 'New World Whisky' as whisky not produced in Ireland, Scotland, the USA or Japan. New World Whisky also encompasses unconventional whisky, such as American Single Malt or Scottish rye, made in established whisky-making countries.
SUMMARY
According to IWSR's 2018 Drink Market Analysis, whisky has continued to grow faster than most other spirits, with a 7 percent[2] rise on the previous year and volumes for the category predicted to grow to 581 million[3] nine-litre cases per year by 2023. Fueled by growth in the overall category alongside exciting innovation, a new generation of blenders, drinks founders and disruptive distilleries have the potential to bring about a new defining era for New World Whisky.
RESONATING WITH A NEW GENERATION
New distilleries are gaining attention all over the world, in both traditional and non-traditional regions such as Denmark, New Zealand, Mexico and Bolivia. These emerging New World Whisky producers are forging their own styles, creating a connection with a new generation of consumers who are interested in discovering new products and experiences. Data from the report shows that 20 percent of our survey's respondents who drink whisky are aged 24 – 34 compared to just 14 percent aged 55 – 64. Alongside this, the research shows an ongoing need for an online presence with 44 percent of respondents spending more than a week researching a new whisky purchase and 87 percent using the internet to find out about new whiskies[4]. In addition, the rise of at-home mixology is expected to continue to engage new groups of consumers.
LIQUID INNOVATION WITHIN A GROWING CATEGORY
While new producers have learned their craft from the original whisky pioneers and are respectful of local traditions, culture and heritage, they are exploring innovation across the production spectrum. Starward, for example, has collaborated with local beer, wine and spirits producers and explored how local climate affects maturation to produce high quality, exciting liquids. With consumers more likely to buy a product having heard a brand story they love, producers such as Starward are engaging curious drinkers through genuine stories about how their drinks are made. Denmark-based Stauning has been pushing the boundaries of whisky-making since its inception, whilst also incorporating a great blend of traditional methods. Benefitting from its local terroir, the barley and rye are grown within a few kilometres of the distillery providing further ties to the New Nordic movement. Experimenting with fermentation techniques, Portland-based Westward, uses local ingredients and customises its yeasts to achieve specific qualities and flavours.
NAVIGATING IN A NEW RETAIL ENVIRONMENT
Like all industries – the drinks industry has had to navigate change and challenges created by the COVID-19 pandemic. Whilst the shape of recovery is uncertain, there are ways that New World Whisky brands can adapt. According to the report, 62 percent of UK respondents who drink whisky and 82 percent of US whisky drinking respondents trust bartender recommendations, showing that New World Whisky brands can play a significant role in supporting the on-trade through education and positive consumer experiences.
With a greater need for sophisticated online shopping platforms, the ecommerce opportunities for alcohol brands, in general, are huge but largely undeveloped. According to IWSR's 2018 Drink Market Analysis, just 2 percent of all global spirits sales were made online. With 30 percent[5] of consumers claiming they would not purchase a bottle of whisky they've never tried before, trial at home has become a crucial way for New World brands to attract new customers via virtual tastings and sampling packs.
Furthermore, supporting local communities and specialist whisky retailers has taken on renewed importance [during COVID-19] and this trend is expected to continue with almost a third[6] of UK respondents consumers intending to continue to support local retailers more often in the future. With quality at-home experiences set to increase and the temporary relaxation of shipping laws in a variety of US states, brands have been able to recoup some of their lost revenue via direct shipping to consumers and exclusive whisky clubs, with the likes of subscription service, Flaviar witnessing a 'significant uplift'[7]' of new members during lockdown.
THE DV PERSPECTIVE
Frank Lampen, Co-Founder and CEO at Distill Ventures said: "Despite the many challenges faced by producers globally, it's an exciting time for the whisky category and we've seen some fantastic liquids and distilleries come to the fore over recent years. New World Whisky makers are playing an important role in developing the whisky category through liquid innovation, digital communication and connecting with their followers. We're proud to work hand-in-hand with some of the most cutting-edge brands, including Stauning, Starward and Westward.
"Key to the success of the category, will be how distillers unlock retail growth and optimize sales of the outstanding liquids they're developing, and we remain committed to helping the best entrepreneurs in the industry to do so."
[1] For full methodology and data sources, please download 'The New World of New World Whisky' from Distill Ventures' website: https://www.distillventures.com/.
[2] SOURCE: IWSR.
[3] SOURCE: IWSR. NB PREDICTION MADE PRE-MARCH 2020.
[4] For full methodology and data sources, please download 'The New World of New World Whisky' from Distill Ventures' website: https://www.distillventures.com/.
[5] SOURCE: DISTILL VENTURES/DYNATA, MARCH 2020.
[6] SOURCE: GLOBALDATA, UK CONSUMER SURVEY, MAY 2020.
[7] For full methodology and data sources, please download 'The New World of New World Whisky' from Distill Ventures' website: https://www.distillventures.com/.