June marks Pride Month, a time to celebrate LGBTQ+ communities all around the world. Continuing its 40+ year allyship to the LGBTQ+ community, Absolut is introducing Out & Open on May 10, an ongoing initiative that not only celebrates LGBTQ+ bars and restaurants, but also bring awareness to the plight of these safe spaces, having declined by 15.2% between 2019-Spring 2021, on the heels of a 14.4% decline between 2017-2019 (source: Sociologist Greggor Mattson, Ph.D).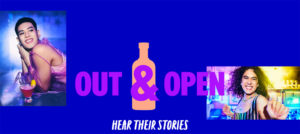 These joyful spaces are more than just a place to enjoy cocktails. They are critical for the community. Which is why Absolut is focused on highlighting the importance of protecting the future of LGBTQ+ bars and restaurants by:
Partnering with the National LGBT Chamber of Commerce (NGLCC) to make succession planning programs more accessible to LGBTQ+ business owners, conducted both in-person and virtually.
Launching an audio-visual series that highlights stories from community members inside the walls of LGBTQ+ bars, including actor and comedian Bowen Yang. For every listen and/or share of these stories Absolut will make an additional donation to the NGLCC to expand its succession planning programming.