Ingredients: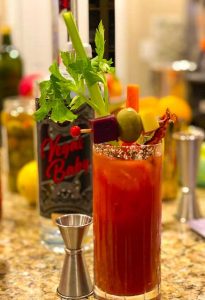 Dip rim in salt and pepper mixture
2 oz. Vegas Baby Vodka
6 oz. Bloody Mary Mix
.5 oz lime juice
Dash of Worcestershire sauce
Two dashes smoked chili bitters
Directions:
Mix all ingredients in a shaker with ice. Strain into a highball glass with ice. Dress it up! Add a pimento-stuffed olive, habanero jack cheese, sweet chili beets, celery, carrots, caramelized bacon.