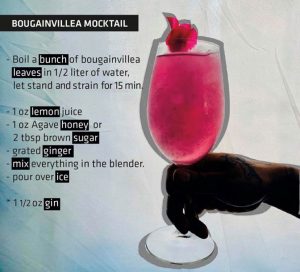 Ingredients:
1 oz freshly squeezed lemon juice
1 oz agave syrup or 2 tbsp brown sugar
Grated ginger
½ liter water
Ice
Bunch of bougainvillea leaves
Directions:
Boil bougainvillea leaves in ½ liter of water, let stand for 15 minutes, then strain. Combine all ingredients (including bougainvillea water) and blend. Pour over ice and garnish with bougainvillea flowers. *Pairs well with gin if you want a boozy kick.
Courtesy of The Cape, a Thompson Hotel in Los Cabos