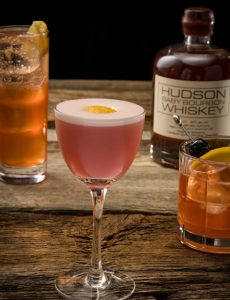 Ingredients:
1.5 parts Hudson Baby Bourbon
1 part Aperol aperitif
.5 part fresh lemon juice
.5 part honey syrup
Half-dropper of Bittermens Elemakule Tiki Bitters (comes in dropper format—2 dashes if decanted into dasher bottle )
Directions, Three Ways:
CENTER: shaken with egg white or .75 oz aquafaba (chickpea water), strained into cocktail glass, and garnished with lemon twist.
LEFT: strained over ice and topped with soda and garnished with lemon wedge.
RIGHT: strained over the rocks and garnished with lemon wedge & cherry.
Recipe by David Powell, Hudson Whiskey Brand Ambassador