If your bar is celebrating the luck of the Irish on Thursday, March 17 this year, then you'll want to check out the cocktails we've collected below!
Mint Chocolate Skrew
Ingredients: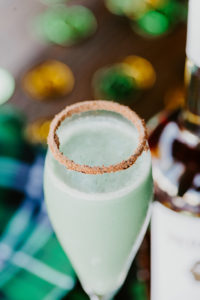 1 oz. Skrewball Peanut Butter Whiskey
.75 oz. Cream
.5 oz Crème de Menthe
.5 oz White Crème de Cacao
Directions:
Combine all ingredients in a cocktail shaker filled with ice. Shake until chilled and strain into a champagne flute. Garnish with a chocolate rim.
The Dead Rabbits Real Irish Coffee Recipe
Ingredients: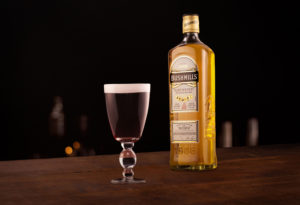 1 part Original Bushmills
¾ part rich Demerara syrup
3¼ parts Sumatra coffee
Fresh whipped cream
Directions:
Pour all ingredients into a 6 oz Georgian Irish Coffee glass leaving a .5 inch room for cream. Top with freshly whipped heavy cream.
Recipe by Jack McGarry and Sean Muldoon of The Dead Rabbit for Bushmill.

Pot of Gold
Ingredients: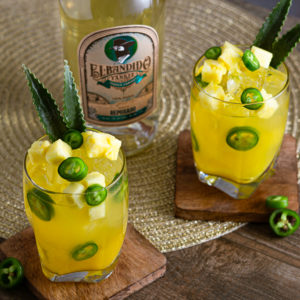 1 ½ oz El Bandido Yankee Reposado
½ oz Dry Curaçao
½ oz Ginger Liqueur
½ oz Lime Juice
1 ½ oz Pineapple Juice
2 Dashes Aromatic Bitters
Jalapeño Slices
Directions:
Muddle a few jalapeño slices in a cocktail shaker. Add all additional ingredients and shake with ice. Strain into a glass full of fresh crushed ice. Garnish with small pineapple cubes, jalapeño slices and some pineapple fronds.
Gold Rush
Ingredients: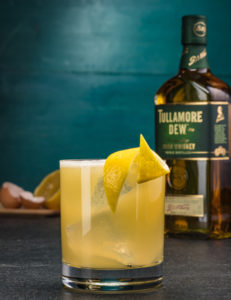 2 parts Tullamore D.E.W.
0.75 part fresh lemon juice
0.75 part honey syrup
Directions:
Add all ingredients to an ice filled shaker. Shake and strain into an ice filled glass. Garnish with a lemon twist.
Saiten Mojito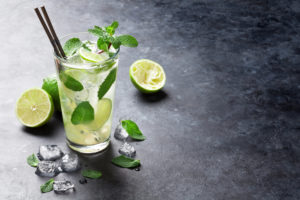 Ingredients:
2 oz iichiko Saiten
1 oz Lime Juice
1 oz Simple Syrup
Topped with Club Soda
Mint Sprigs
Mint sprigs
Directions:
Muddle mint sprigs into cocktail shaker. Add all ingredients except club soda into a shaker with ice. Shake, then strain into Collins glass with Ice. Top with club soda and garnish with mint.
Roe & Co Irish Coffee
Ingredients: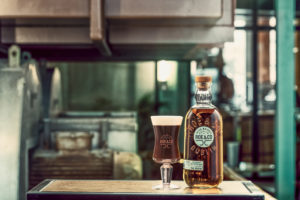 1.5 oz Roe & Co
2 oz freshly brewed americano coffee
0.25 oz porter syrup/sugar syrup
0.5 oz fresh lightly whipped cream
grated nutmeg & 3 coffee beans
Directions:
Heat the Irish coffee glass with boiling water. Once heated empty the water out and add 2oz of freshly brewed hot coffee and in the syrup. Stir lightly. Pour in 1.5oz of Roe & Co and layer lightly whipped fresh cream on top. Garnish with 3 coffee beans and a light dusting of grated nutmeg.
Ketel One Green Mary
Ingredients: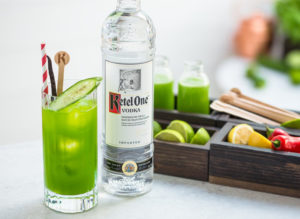 1 oz Ketel One Family-Made Vodka
3.5 oz freshly juiced equal parts of celery and cucumber
.5 oz freshly squeezed lime
1 pinch of rock salt, pepper, cinnamon, nutmeg and dried chili flakes
Directions:
Add all ingredients to the glass, stir well, add ice. Garnish with a salted cucumber slice.
Recuerdo Mezcal Minty Banshee
Ingredients: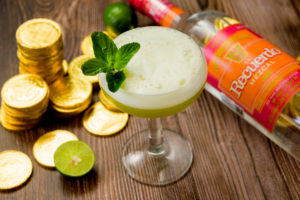 1 ½ oz Recuerdo Mezcal Joven
½ oz crème de menthe
½ oz lime juice
½ oz simple syrup
1 egg white
Mint leaves
Instructions:
Double shake all ingredients, reserving some mint leaves for garnish – first a dry shake, then with ice. Serve in a coupette glass and garnish with the remaining mint leaves.
The Ballotin Grasshopper
Ingredients: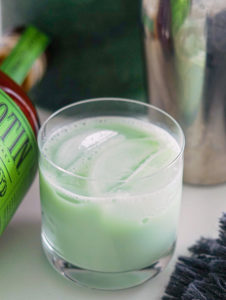 1 ½ oz Ballotin Chocolate Mint Whiskey
splash of creme de menthe
2 oz milk
Directions:
Shake with ice and strain into coupe glass.
Spa Girl Cocktails Shamrock Sour
Ingredients: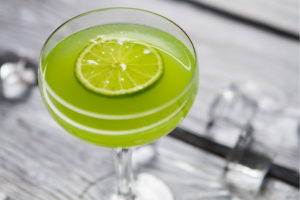 4 oz Spa Girl Cocktails Pineapple Vodka Seltzer
Juice of I lime
Juice of ½ lemon
½ oz simple syrup
1oz. Melon liqueur (We use Midori)
Directions:
Pour all ingredients over ice into a cocktail glass, garnish with a lime wheel or fresh thyme. Serve & enjoy!
Bright Lights, Big City
Ingredients: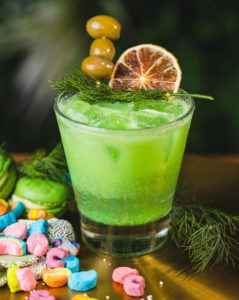 2 oz of E11EVEN Vodka
1/2 oz of Lo fi Dry Vermouth
1/2 of Lemon Juice
1/4 oz of Dill Simple syrup
Directions:
Add all ingredients into cocktail shaker. Add ice and shake vigorously. Strain over fresh ice in a dill salt rimmed Collins glass. Fill with club soda. Garnish with olives and a dill sprig.
Recipe by Rebecca Applebaum, Miami, Florida, for E11EVEN Vodka. Photo by Lionel Photography.
Kilkea Green Grasshopper
Ingredients: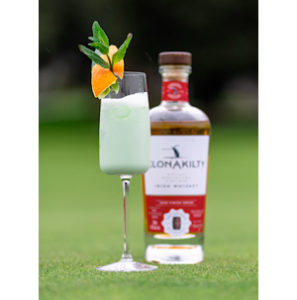 35ml of Clonakilty – Port Cask Irish Whiskey (or other premium whiskey)
25ml of St. Germain Liquor
25ml of Crème de Menthe
40ml Bailey's Irish Cream
Orange Peel
Sprig of Mint
Cup of Ice
TOOLS/GLASS:
Tall Champagne Flute
Boston Shaker
Strainer
Directions:
Prepare Glass by adding Orange Peel and Mint to the rim. Add Ice to Boston Shaker. Then add Whiskey, St. Germain, Crème de Menthe & Bailey's Irish Cream. Shake for 30 Seconds. Strain contents of shaker into Champagne Flute. Enjoy!
Recipe by Dawid Smietana, Food & Beverage Outlets Manager, Kilkea Castle.