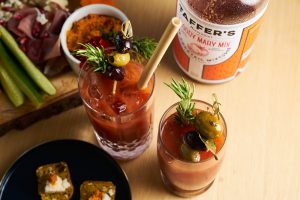 Ingredients:
3.5 oz Taffer's Bloody Mary Mix
1.5 oz Gin
Fresh rosemary sprigs
Assorted olives
Hot sauce (optional)
Directions:
Add Taffer's and Gin to a cocktail shaker filled with ice. Shake vigorously. Strain into a serving glass with fresh ice. Garnish with fresh rosemary and assorted olives. Dash with hot sauce and serve!
Recipe and photo courtesy of Taffer's Mixologist.