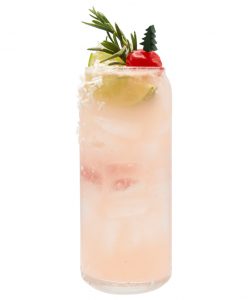 Ingredients:
1 oz. Aperol Aperitif
½ oz. Monin Coconut Purée
1 pump Monin Rosemary Concentrated Flavor
½ oz. fresh lime juice
4 oz. White Claw® Black Cherry Hard Seltzer
Directions:
Combine ingredients in shaker in the order listed, except White Claw. Cap and shake vigorously. Strain into chilled serving 16-ounce glass. Top with White Claw. Garnish with coconut, christmas tree pick, cherry, lime slice, and rosemary sprig.
Recipe and image courtesy of Monin Beverage Innovator Anne Fontana.