We've rounded up some National Cocktail Day recipes to give you inspiration for today and the days to come!
Avaline Sparkling Float
Ingredients: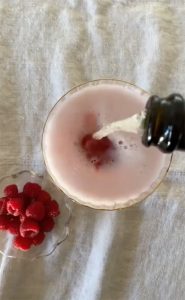 1 scoop of your favorite sorbet (raspberry + rose sorbet is the best!)
3-4 fluid ounces of Avaline Sparkling wine
Handful of fresh raspberries
Directions:
Fill your coupe glass with scoop of your preferred sorbet. Pour 3-4 ounces of Avaline Sparkling on top. Sprinkle with fresh raspberries, and Voila!
Recipe courtesy of Avaline.
Purple Dragon Lemonade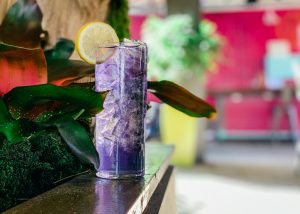 Ingredients:
1.25 oz Butterfly Pea Tea infused Vodka
.25 oz Cucumber infused Gin
.5 oz lemon juice
.5 oz simple syrup
2 oz soda water
Directions:
Shake all ingredients except soda water. Strain into highball glass filled with ice. Top with soda water.
Recipe courtesy of Garden & Grain.
High West Cobbler – Payroll Train
Ingredients: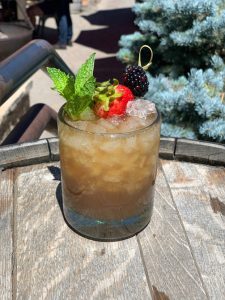 0.5 oz Double Rye
1.5 oz Mixed Berry-infused Oloroso
0.5 oz Amaro Ciociaro
0.5 oz Cinnamon syrup
0.5 oz Lemon Juice
0.25 oz Smith & Cross
Directions:
Short shake, strain over crushed ice into cobbler glass, garnish with berries and mint
Mixed Berry-infused Oloroso – Fill a quart container with mixed berries (raspberries, cherries, blackberries), cover with oloroso, allow to infuse for 72 hrs at room temperature, strain off. Use within two weeks.r
Recipe courtesy of High West.
Salt and Pepper Shandy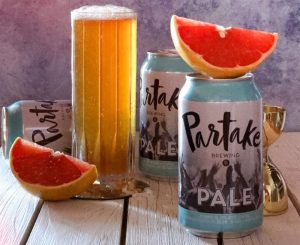 Ingredients:
2 oz grapefruit juice
¾ oz black pepper syrup
3 dashes Angostura bitters
1 can Partake Brewing Pale
Pinch flaky sea salt
For the Black Pepper Syrup:
1 cup sugar
1 cup water
1 tbsp black peppercorns, whole
DIRECTIONS:
Add grapefruit juice, black pepper syrup, and bitters to a Collins glass.
Stir to combine.
Top with Partake Brewing Pale.
Add a pinch of salt.
Enjoy!
HOW TO MAKE THE BLACK PEPPER SYRUP
Combine sugar, water, and whole black peppercorns in a small saucepan over medium heat. Stir until sugar is dissolved. Simmer for 5 minutes. Remove from heat and let cool to room temperature. Strain into a glass jar, removing peppercorns. Seal and store in the fridge for up to two weeks.
Recipe courtesy of Yvonne Langen from Taste & Tipple.
Fugu Delray
Ingredients: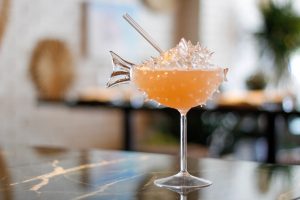 Mix the following ingredients into a cocktail tin with ice and shake.
1.5oz Stoli Elit Vodka,
.5oz Monkey 47 Gin,
1oz Lemon juice,
.5oz Raspberry Basil reduction syrup,
.5oz Combier Orange,
.25oz House Almond Syrup
Directions:
Fine strain into the Fugu Glass. Top with Dom Perignon 2006. Dust the glass with edible gold spray.