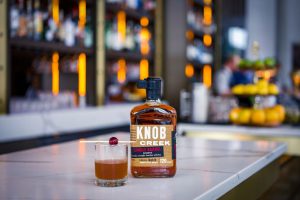 Ingredients:
1 part Knob Creek Single Barrel,
1 part Luxardo Maraschino Liqueur,
.5 parts Punt e Mes,
.25 parts Fresh Lemon Juice
Directions:
Combine KC Single Barrel, Luxardo Maraschino, Punt e Mas, and fresh lemon juice in a glass. Add ice. Stir. Strain. Garnish with Luxardo Maraschino Cherries on skewer. Served in a chilled if possible coupe glass.
Recipe courtesy of Beth Burrows (Louisville, KY)