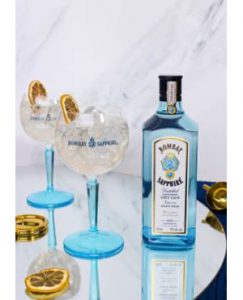 Ingredients:
1.5 oz Bombay Sapphire Gin
¾ oz Lemon Juice
¾ oz Simple Syrup
2 oz Club Soda
1-4 dashes of The Bitter Truth Aromatic Bitters
Lemon Wheel for Garnish
Directions:
Shake all of the ingredients aside from club soda and bitters and pour into your favorite Collins glass with fresh ice. Top with club soda and dashes of bitters. Garnish with a dehydrated lemon wheel.
Recipe and photo courtesy of Bombay Sapphire Gin.