Ingredients: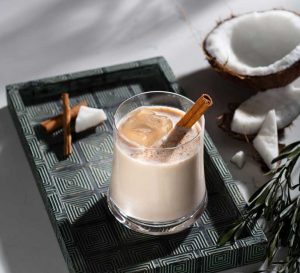 12 oz Hennessy V.S Cognac
14 oz sweetened condensed milk
16 oz coconut milk
12 oz evaporated milk
½ tsp cinnamon powder
¼ tsp clove powder
¼ tsp nutmeg powder
1 tsp vanilla extract
Garnish: Cinnamon Stick
Glass: Rocks
Directions:
Combine all ingredients in a blender and blend until smooth. Immediately transfer to sealed container and refrigerate until cool. When ready to serve, pour over ice into rocks glass, garnish with cinnamon stick.
Recipe courtesy of Hennessy