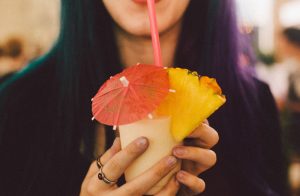 You could argue that the piña colada is one of the official cocktail recipes of summer. Why else would it get a national holiday in July?
Below we've compiled some recipes that provide a twist on this traditionally sweet cocktail made with rum, cream of coconut or coconut milk, pineapple juice, and served either blended or shaken with ice.
Summer Colada
Ingredients: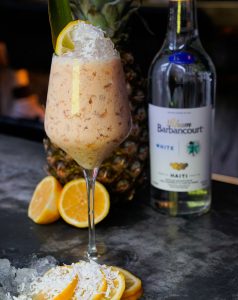 ½ oz Rhum Barbancourt White Rhum
1 ½ oz amarula liqueur
¾ oz coconut cream
3 oz pineapple juice
¼ oz of orange blossom water
Directions:
Frost the rim of a highball glass with cinnamon. In a shaker filled with ice add all ingredients and shake vigorously for eight to 10 seconds. Strain the contents of the shaker into a glass over fresh ice. Garnish with a pineapple or orange slice.
Recuerdo Mezcal Lilly
Ingredients:
1 1/2 oz Recuerdo Joven Mezcal
2 oz cream of coconut
1 oz blue curacao
1 dash evaporated milk
5 fresh raspberries
1 small piece of ginger
Directions:
In a martini glass, muddle two raspberries with the curacao and 3/4 oz of Recuerdo Mezcal. Mix the cream of coconut, the evaporated milk, the ginger and 3/4 oz of Recuerdo Mezcal in a blender with plenty of ice, to the consistency of ice cream. Serve this mix on top of what we muddled in the martini glass, and garnish with three raspberries on top.
Pineapple Ginger Piña Colada

Ingredients:
1½ oz. aged Puerto Rican rum
1½ oz. cream of coconut
3 oz. Fresh Victor Pineapple and Ginger Root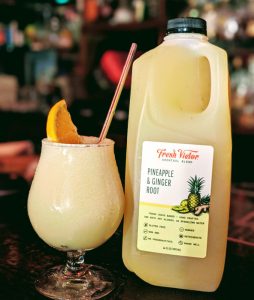 16 oz. crushed ice
Garnish: orange slice or pineapple wedge
Directions:
Add all ingredients to a blender for 30 seconds (depending on blender; use smoothie setting)
Recipe courtesy of H. Ehrmann, Elixir in San Francisco for Fresh Victor
Tully Colada
Ingredients: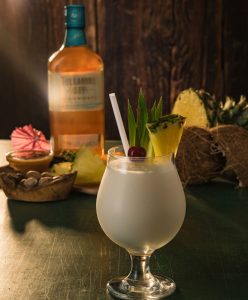 1.5 parts Tullamore D.E.W. Caribbean Rum Cask Finish
.5 parts Lime Juice
1.5 parts Pineapple Juice
1 part Cream of Coconut (Coco Lopez)
1 part Coconut Milk
Directions:
Shake and strain into a Hurricane glass filled with fresh ice. You may also blend all of the ingredients with crushed ice instead. Garnish with a Cherry and Pineapple wedge.
Recipe created by Donna Stewart, Brand Ambassador for Tullamore D.E.W.