LGBTQ Pride Month is celebrated the whole month of June. We've compiled a collection of recipes to help your bar celebrate!
Purple Pride Cocktail
Ingredients: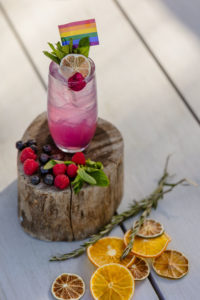 1 oz Vodka Absolut Azul
1/2 oz Chambord
1 oz Lavender syrup and Butterfly Tea
1/2 oz lime juice
Directions:
Combine all ingredients in a shaker and strain into a highball filled with ice. Garnish with a rainbow flag.
Pineapple In Your Pocket
Ingredients: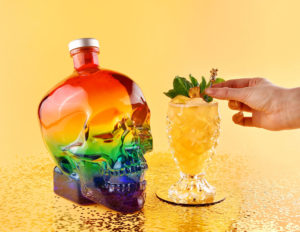 2 oz. Crystal Head Vodka | 60ml Crystal Head Vodka
2 oz. Fresh Pineapple Juice | 60ml Fresh Pineapple Juice
½ oz. Falernum Syrup | 15ml Falernum Syrup
¼ oz. Lime Juice | 10ml Fresh Lime Juice
5-6 Mint Leaves, muddled
Directions:
Add ingredients to cocktail shaker, muddle and shake on ice. Double strain into a highball glass with ice. Garnish with mint crown and dehydrated pineapple ring. Add a colourful yellow straw.
Ingredients: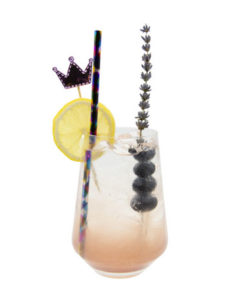 Garnish: blueberries, lavender sprig, lemon wheel
Directions:
Fill serving glass full of ice. Pour ingredients into serving glass in order listed. Add garnish and serve.
Recipe by Monin.
Tropic Like It's Hot
Ingredients: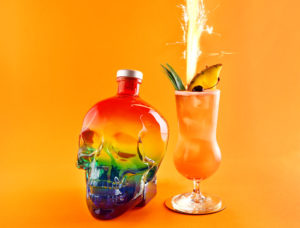 1 ½ oz. Crystal Head Vodka | 45ml Crystal Head Vodka
½ oz. Campari | 15ml Campari
½ oz. Apricot Liqueur | 15ml Apricot Liqueur
½ oz. Fresh Lime Juice | 15ml Fresh Lime Juice
1 ½ oz. Fresh Pineapple Juice | 45ml Fresh Pineapple Juice
Pinch of Salt
½ oz. Simple Syrup | 15ml Simple Syrup
Morello Cherry
Directions:
Build ingredients in a cocktail shaker and shake with ice. Strain into glass with crushed ice. Garnish with pineapple leaf, cherry and pineapple slice.
Jaisalmer Royal Smash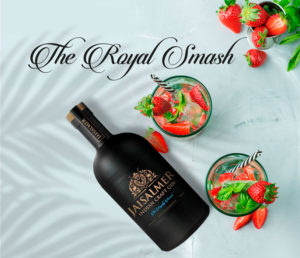 Ingredients:
¾ oz. Simple syrup
¾ oz. Fresh Lime Juice
3 fresh strawberries, 2 hulled and sliced and 1 reserved for garnish
3 ounces Jaisalmer Indian Craft Gin
Club soda
Fresh mint sprig, for garnish
Directions:
In a tall glass, combine the simple syrup, lime juice, and sliced strawberries and lightly muddle. Fill the glass with ice and add the gin. Top with a splash of club soda and garnish with the strawberries and a sprig of mint.
Fuzzy Drama
Ingredients: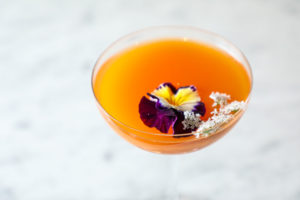 18oz Celery Fennel Shrub
18oz Real Peach Syrup
9oz lemon juice
1.5oz orange bitters
54oz strong chamomile (12 bags into 2 L scalding water for 10 minutes)