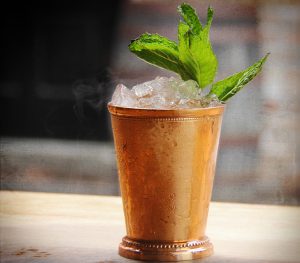 Ingredients:
1½ parts Knob Creek® Bourbon
2 bunches mint
1 part simple syrup
1 splash soda
Directions:
Mix sprigs of mint with simple syrup and a splash of soda. Fill highball glass with fine crushed ice and pour in bourbon. Lift out and decorate with two mint leaves. Add powdered sugar over mint to add an optional frosted appearance.
Recipe courtesy of Knob Creek Bourbon.