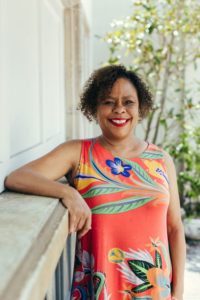 Elijah Craig Old Fashioned Week (OFW) returns for its third annual celebration this October 14-23, 2022. Taking place nationwide and hosted by star bartender and Heaven Hill National Spirits Specialist and Portfolio Mixologist Lynn House, the ten-day celebration invites discerning imbibers to raise a glass to the time-honored cocktail while raising money for an excellent cause.
Participating bars around the country will offer a classic and/or riff(s) on the quintessential drink throughout the week. Some of the participating bars include:
Barrel Proof: New Orleans, LA
Birdie G's: Los Angeles, CA
Cure: New Orleans, LA
Julep: Houston, TX
Leyenda: Brooklyn, NY
Peychaud's: New Orleans, LA
Additionally, this year Elijah Craig OFW has pledged to partner with Southern Smoke Foundation as OFW's beneficiary, with a $100,000 donation. This will bring Old Fashioned Week to $300,000 to support the industry.
Bars can sign up to participate and support the cause here. Consumers can follow along and show their support by tagging Elijah Craig in a cocktail photo or video using @ElijahCraig and #OldFashionedWeek, and they'll donate an additional $5 to the Southern Smoke Foundation.
We recently spoke with OFW host Lynn House (also the recent winner of "Best U.S. Brand Ambassador" at the 16th Annual Spirited Awards) about her work with OFW and what the industry can expect from this year's event.
Bar Business Media (BBM): Tell us more about yourself and your role in the hospitality industry.
Lynn House (LH): I am originally from Columbus, Ohio. I grew up in a family that not only gardened but also made a lot of their own spirits. My great-grandmother made her own coffee liqueur, moonshine, dandelion wine, elderberry wine, and peach brandy. As a child, I often helped in the process. Gathering and breaking bread together was a treasured tradition. I think that is where my love for the hospitality industry was born. Making culinary and liquid creations, watching the joy of family and friends as they partook, and creating new flavor combinations was so exciting.
I attended Miami University in Oxford, Ohio. There I received my BFA in Theatre Performance and a minor in Arts Management. I have always had a love for drama as well.  I put myself through college. So to augment scholarships and work study, I started work in a local hotspot named Attractions. It was so very 80's. I started as a hostess, and when I became of age, I became a server and worked the disco bar on weekends. It was there that so many loves came together. I made great money but most of all I fell in love with the people drawn to the industry. Many are still close friends—in fact, two of those friends are the godparents to my daughter.
I moved to Chicago to pursue acting. To make ends meet, I continued to work in restaurants and bars while in between acting gigs. I learned all I could, staged with chefs, and took classes in wine and mixology.
My talents were being recognized, and I stepped away from acting and turned to the hospitality industry full time. Eventually I would find myself winning bartending competitions, becoming one of the original Master Bartenders at the famed Drawing Room, and having my dream job as a bartender, Chief Mixologist for the famed Blackbird Restaurant.
After three years in that role and an injury to my right elbow, I left work behind the stick and joined Heaven Hill Brands as their first National Brand Ambassador for PAMA. After two years in that role I was promoted to National Brand Educator. After two years in that role I was promoted to National Spirits Specialist and Portfolio Mixologist, which takes me to where I am today.
BBM: Do you have any advice for other women in the hospitality industry?
LH: During my 30-plus years in the industry, I have seen an evolution of the role women play. When I started, we were relegated to being hostesses, servers who had to wear cutesy outfits, bar maids, and occasionally a bartender.
My greatest advice is, first, learn. When you are armed with knowledge, there will be obstacles, but they become easier to deal with. Learn not only about spirits, but also take business classes.
The second piece of advice is never let anyone tell you that you cannot be in a room. You do not always get an invitation but show up and insist on being in that room. There will be criticism. Act like a duck. It is just water off my back.
Seek mentorship from women you admire. There is a strong sisterhood out there, and so many are very willing to help lift you up and spotlight your talents.
Have fun. This is a fun business. Do not let all of the noise take away the joy of doing what you love to do. Joy is just as intoxicating as a spirit can be.
BBM: How did you get involved with OFW?
LH: As my role expanded within Heaven Hill Brands, so did my responsibilities. When I started, I focused on one brand, then a few, and eventually the entire portfolio. My studies in spirits and classic cocktails gave me a unique skill set as this project was evolving. Our Master Distiller Connor O'Driscoll and our two Ambassadors of Whiskey Bernie Lubbers and Jack Choate were already on board to help promote the program. The Whiskey Team also thought that my voice would help connect the project with trade. On-Premise is predominantly who I connect with. I could speak directly to the history of this iconic classic cocktail, as well as guide people as to how to personalize the cocktail.
BBM: Can you tell our readers more about OFW?

LH: Heaven Hill Brands is a third-generation, family-owned company. We operate on a different scale compared to others in the industry. A tremendous part of why we have been in operation for almost 90 years is because of the hospitality industry. Old Fashioned Week was born out of wanting to give back to the industry. This became so important during the pandemic. We set a goal of raising $100,000 and donating the entire sum to organizations that provided relief and support for the industry. We were successful with achieving that goal each of the first two years of Old-Fashioned Week.
This week also creates the opportunity for us to pay homage to a true American Classic Cocktail and share history. Showcasing the story of Thomas Bullock and his contributions to the hospitality industry is a perfect example of some of the history we have been able to share.
BBM: What is different about this year's event?
LH: What comes to mind this year is that this is the first time we get to go live and not be virtual. The year we launched Old-Fashioned week was 2020. We had to pivot and cancel live events. Despite that setback, we still achieved our goal. This year we are started with Tales of the Cocktail to promote the event. Connor, Bernie, Jack, and I did live appearances with our partners. We are partnering with a new charity this year, Southern Smoke Foundation. I am so very excited about this. A charity founded by the hospitality industry that gives back in so many ways.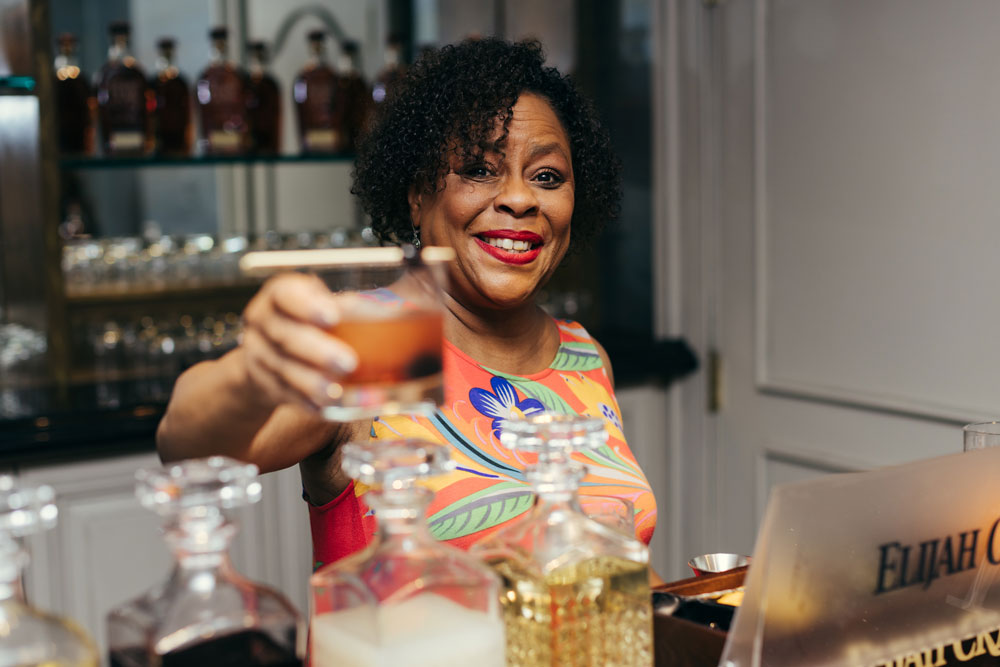 BBM: What are you excited about for this year's OFW?

LH: I would have to say what I am most excited about is to interact with the hospitality industry and our consumers. My wings have been clipped for two years. As a person who is used to traveling 28 weeks out of the year, seeing all my friends and comrades only through Zoom has been stressful. I am looking forward to hugs, laughter, and sharing delicious cocktails with the world.
BBM: Can you share a favorite old fashioned recipe?
LH: I am a huge fan of the classic recipe. However, lately I have been switching out the Elijah Craig Small Batch Bourbon for the Elijah Craig Rye. I love the spice it brings to the cocktail. I occasionally like to switch up the bitters and play around with the sugar.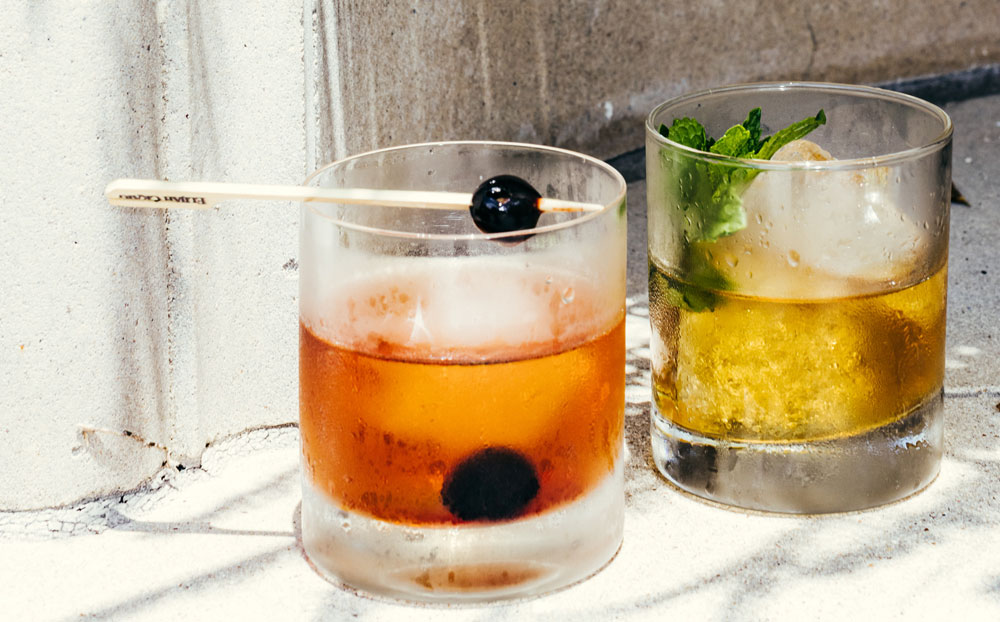 Ingredients:
2.0 oz Elijah Craig Rye
.5 oz cane sugar syrup
3 dashes of Fee Brothers Old Fashioned Bitters
2 dashes of Regan's Orange Bitters
Directions:
Serve over a large format ice cube and garnish with an orange peel.