Dirty Devil Vodka is a 42% ABV, corn-based vodka that is five times distilled and three times filtered. Dirty Devil is the first spirit in the world to be blended with hyper-oxygenated water. Using proprietary technology, pharmaceutical-grade oxygen gas is injected into purified Canadian spring water. The result locks five times the normal amount of oxygen into the water for an extended period of time. The extra oxygen serves to further refine the taste and smoothness to create a true, ultra-premium vodka.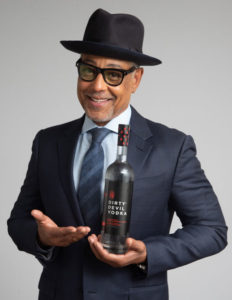 Actor/Director Giancarlo Esposito (of Breaking Bad and Better Call Saul fame) is a stakeholder and global brand ambassador for Dirty Devil Vodka, and we recently spoke with him about the vodka, the brand, and vodka trends. Check out the full Q&A, below!

Bar Business Media (BBM): How did you get involved with Dirty Devil Vodka?
Giancarlo Esposito (GE): I have been good friends with Dirty Devil Vodka's CEO Murray Merkley for more than 20 years. In 2020, Murray told me about this great vodka his company in Canada had developed and then he sent me a sample. I tried it and was blown away by its quality. Dirty Devil Vodka was looking to enter the American market and we felt there was a great fit between our brands.
BBM: What do you hope to achieve as global brand ambassador of Dirty Devil Vodka?
GE: I am fully involved across the brand-building process for Dirty Devil Vodka. We started with trade promotion, and I've been assisting in meetings with key distributor, retailer, and on-premise accounts since late 2021. We are now taking the next step and working on brand awareness with vodka lovers across North America. We've had some great reviews from independent rating groups such as Beverage Tasting Institute and Chilled, which makes my job easier.
BBM: What's the story behind the unique name?
GE: The founder of Dirty Devil Vodka, Francois Tremblay, worked with a scientist and a liquid designer to fuse a great corn-based spirit with proprietary hyper-oxygenated water. Once they finished the distilling and blending processes, they tried the product. Francois loved it and used some Quebecois slang that basically translated to, "You dirty devil, that's great!" The name stuck. It's edgy and memorable, and so far we've had very positive feedback from retailers and consumers.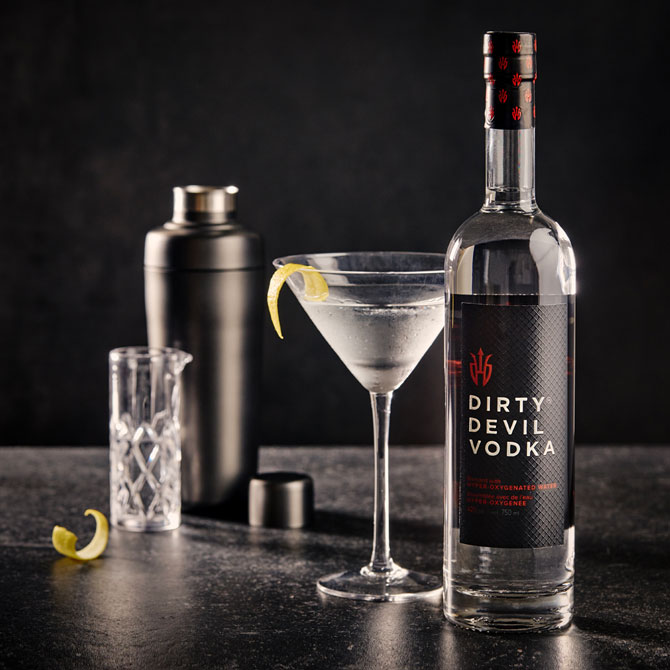 BBM: Dirty Devil Vodka is the first spirit to be blended with hyper-oxygenated water. How does this affect the taste of the spirit? How does it set it apart from other vodka offerings?
GE: It's a unique product, mixing old-school traditional craft distilling processes and some new proprietary technology. The taste is crisp, with some nice hints of almond, rye crisps, and spun sugar, and the finish is smooth. The hyper-oxygenated water basically rounds off the edges while retaining the essence of an ultra-premium vodka.
BBM: In what other ways does Dirty Devil stand out from other vodka offerings?
GE: The ultra premium end of the U.S. vodka market remains dominated by imported vodkas. Those European vodkas together sell over 6 million cases annually in the United States, but they have been around a long time. While there are some fine domestic vodkas that have won significant market share from those legacy brands, we also see a massive opportunity for Dirty Devil Vodka to gain traction as a new, fresh imported alternative.
BBM: Have you observed any recent vodka trends?
GE: I think the vodka soda in a can has introduced a new generation to vodka. Vodka is low sugar, relatively low calorie, and gluten free when made with corn like Dirty Devil is. Those consumers may like the convenience of a premixed cocktail in a can, but it will also give many of those consumers the idea to try something better. They will try a premium vodka—hopefully Dirty Devil—and some fresh limes and great mixer, and take it up a notch. The shift to higher quality products is a trend across all spirits right now. Vodka sometimes gets dismissed in this premium trend because it isn't barrel aged, but I would argue that the difference in taste quality between great vodkas and poor vodkas is more noticeable than with most other spirits.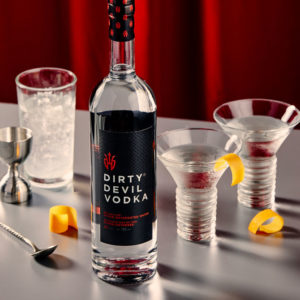 BBM: Can you share your favorite Dirty Devil cocktail with us?
GE: I actually like Dirty Devil Vodka chilled and straight up. A martini is also a classic choice. For bartenders with more ingredients at hand, the Blood Orange Sparkler is very refreshing:
Blood Orange Sparkler
1.5 oz DDV
3 oz blood orange juice
1 tbsp of rosemary-infused simple syrup
Dash of orange bitters
Mix all ingredients and pour into a glass. Finish off with a splash of soda.