By David Klemt
A text exchange between a restaurant manager and delivery driver posted to Reddit went viral last month.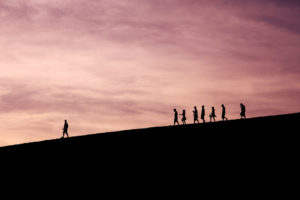 Refreshingly, it didn't make the rounds on news sites for the wrong reasons. Rather, the text conversation is a succinct example of emotional intelligence, empathy, and leadership.
Those interested in reading the text exchange in its entirety can follow this link. However, I'll sum it up here.
Posted to the subreddit Kitchen Confidential, the conversation begins with the manager checking in on the driver, asking, "You doing OK?"
The driver says they're "doing better but" is still dealing with a lot. After the manager asks if they should cover their shift that night, the driver reveals they may need to quit the job.
Instead of blowing up at the driver, trying to talk them out of their decision, or cutting the exchange short, they say, "It's alright [sic]."
Going further, the manager says, "You're [sic] happiness is more important." They add that the business hopes the driver will return to the job when they're ready.
Shall I Cover You Tonight?
Now, I tend to believe that most members of restaurant, bar, and hotel leadership teams are empathetic. I also lean toward believing that most are competent problem solvers.
However, we've all come across people who don't belong in a leadership role. In some cases, a person's lack of leadership qualifications doesn't manifest until they've been in the role for some time.
My business partner, Bar Business contributor Doug Radkey, and I have had conversations about leaders who don't seem to lead. At best, they're examples of what not to do. At worst, they're chasing away a business owner's staff and guests.
Most recently, these conversations have centered around managers insisting that staff solve scheduling problems themselves.
Before I proceed, I acknowledge fully that we're facing an unprecedented labor shortage. That's no excuse for poor leadership.
What, exactly, is the leadership team doing that they can't manage the schedule? Further, with today's modern scheduling platforms, why is filling available roles difficult for leaders? Several scheduling apps make it a painless, automated process.
The manager in this Reddit text exchange doesn't demand the driver find someone to cover their shift. Instead, they behave like a manager and handle it themselves.
Don't Ever Discount Yourself
If you're active on LinkedIn and have a sizeable hospitality-centric network, you've likely seen posts about how the industry needs to be more people-focused. Not in terms of guests—that's obvious.
Rather, the consensus is that we're not going to solve the labor problem if we don't treat staff as well as we treat guests. Some of these posts may be a bit saccharine, but they're not incorrect.
Let's review the texts from this manager:
"You doing OK?"
Your "happiness is more important."
"We love having you here."
"You're an awesome person."
"Don't ever discount yourself."
When's the last time you and other members of the leadership team asked a staff member if they're okay? And if you've asked recently, did you get an honest answer? Did you want an honest answer?
A restaurant or bar team that doesn't trust leadership isn't going to bother providing an honest answer to that question—they feel like the leaders don't care about them.
Looking at the rest of the texts above, do you and your leaders take the time to recognize and thank staff? Even the shyest team member wants recognition for a job well done.
Those in leadership roles need to develop their skills constantly. Contrary to some in those positions, leaders aren't there simply to lord their authority over others and dish out punishments.
So, before your next team meeting, gather the leaders. Find out if every member of the team is checking on staff, valuing their health and wellness, and tackling the mundane tasks that are inherent to their roles.
The maxim is true: People don't quit jobs, they quit people. If your leadership team isn't leading with empathy, you can expect your labor issues to compound. No amount of excuses will turn that around.
David Klemt started working in restaurants in his late teens, and has been reporting in the hospitality industry for nearly two decades. In 2020, David joined the KRG Hospitality team, heading the Las Vegas, NV office, and is eager to grow the small-but-nimble, family-owned agency's network. At the forefront of David and KRG's mission is helping owners and operators thrive in the new era of hospitality. David also hosts the KRG-produced Bar Hacks podcast, sharing engaging interviews with the goal of helping hospitality professionals hone their skills, further their careers, learn about new and established brands, and create their own opportunities.