TouchTunes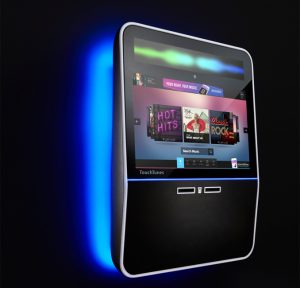 , the largest in-venue interactive music and entertainment platform spanning 65,000 bars, restaurants, and other venues across North America, announced the launch of the Angelina, a breakthrough jukebox delivering unparalleled performance, serviceability, and value.
The Angelina was created with input from consumers, venues, and TouchTunes' operator partners to deliver the most advanced jukebox on the market, while also raising the bar for serviceability and reliability. With sophisticated algorithms and state-of-the art lighting effects, the Angelina elevates the jukebox experience, transforming light and sound into a striking focal point for the venue. The Angelina's visualizer pattern, color combinations, and brightness can be selected from preset values or set individually for a customized look, allowing the jukebox to express the desired vibe in any venue.
The Angelina also offers dozens of game-changing features and capabilities that reduce service times and increase reliability, which translate into greater efficiency and enhanced value for operators. At the heart of Angelina's design are innovative modular components that connect directly to a removable motherboard, markedly simplifying service calls, reducing inventory needs and improving reliability.
"The Angelina is the culmination of two of pioneering design and development," said Ross Honey, TouchTunes President and CEO. "More than just a remarkable jukebox, the Angelina exemplifies our mission to create the most engaging in-venue music experiences, as well as our passionate commitment to helping our operator partners continually grow their businesses."
The Angelina was named in memory of Angelina Miele, daughter of longtime TouchTunes operator Lou and Nicole Miele. For each Angelina jukebox sold, TouchTunes will make a donation to Angelina's Song, a non-profit organization that helps provide music therapy to pediatric cancer patients and supports research to find a cure for pediatric cancers.