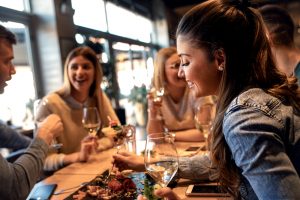 It's no secret that your bar's most valuable assets are its people—both your staff and your customers. It's important to keep customers satisfied, and it's equally important that your staff is well trained, which translates into better profits and a superior guest experience.
We chatted with two companies who recently revamped their operations in favor of stronger staff training and unique beverage programs to attract more customers.
Buffalo Wings & Rings
For over three decades, Buffalo Wings & Rings®, an elevated sports restaurant franchise based out of Cincinnati, Ohio, has been providing the ultimate sports dining experience through its bright, inviting dining rooms; 50-plus TVs; elevated fan experiences; chef-inspired recipes; and signature wings.
The company has spread from its first location in Cincinnati to now include almost 60 locations across the US and two dozen internationally.
Recently, the company decided to revamp its bar program in an effort to drive happy hour and late night traffic and to meet customer demand for its cocktails. They hired Straight Up Solutions to help them.
"The bar side of the restaurant represents approximately 25% of the business. We wanted to put more emphasis on creating new and exciting cocktails—a trend we are seeing with our millennial guests," said Buffalo Wings & Rings Vice President of Marketing Diane Matheson. "We needed someone who had expertise in beverage development and also understood restaurant operations. Straight Up Solutions was the perfect partner."
Straight Up Solutions is a full service marketing company that utilizes creative drink and product development to build and cultivate revenue-generating beverage programs and supplier partnerships. The company utilizes menu design, training materials, data reporting, and point-of-sale items to drive success in its clients' businesses.
For Buffalo Wings & Rings, Straight Up Solutions focused on the beverage menus, including the beer selection. "We're ramping up our beer program to better satisfy both the domestic and craft lover—arming stores with the right information about brands and styles they should be carrying and giving them the flexibility to be much more local," said Matheson. "We have mandated select brands and styles and allow them to hand-select the regional and local brands that fit."
On the cocktail side, the brand added several new cocktails and non-alcoholic beverages to its menu. "Our goal is to drive beverage sales for all dayparts, so we introduced new alcoholic and non-alcoholic beverages and milkshakes are soon to launch," said Matheson.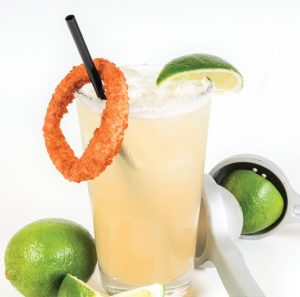 New cocktails include a Chocolate Bacon Manhattan (Aztec Chocolate Bitters, real agave nectar, orange essence, slice of bacon); Ring-A-Rita (handmade margarita mix, El Jimador Silver tequila, orange liqueur, real agave nectar, citrus juices, and a signature onion ring hung on the straw); and Mango Mule (Tito's vodka, real mango fruit base with fresh-squeezed lime juice and fresh mint and ginger, soda).
"The addition of these delicious new drinks to our quality lineup brings even more variety to our customers," said Elliot Jablonsky, Buffalo Wings & Rings R&D Chef, in a press release.
The brand also upgraded existing offerings by incorporating higher-quality liquor and fresh ingredients like real strawberries, blueberries, and mangoes into the making of popular drink staples like the Lonestar Lemonade and Long Island Tennessee Tea.
"Bolstering our drink menu with these signature cocktails creates an incredible opportunity to enhance customer experience at our restaurants," said Matheson, in a press release. "Our creative new offerings and improvements to our classic favorites will entice customers to opt for one of our cocktails thanks to their elevated quality and reasonable price point."
Quaker Steak & Lube
With over 40 locations across the country, the 45-year-old Quaker Steak & Lube® brand has combined unique décor—including gas station memorabilia, classic cars, and motorcycles—with crave-able food and high-octane entertainment events in its restaurants.
Recently, the casual dining franchise decided to invest in its staff and revamp its training program. "We wanted to create a training program that turned our bartenders and bar managers into ambassadors for the brand and the bar," explained Shannon Salupo, Corporate Beverage Manager, Quaker Steak & Lube. "Menus, cocktails, recipes, and programs continue to evolve, making it imperative to have team members on the front line providing guidance and encouragement to their coworkers to ensure efficiencies and integrity of recipes are maintained."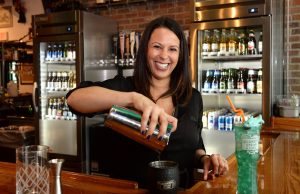 After seeing The Spirits in Motion speak at a beverage conference, Quaker Steak & Lube partnered with the beverage consulting company. "As we began to create our training program using a train-the-trainer model, we sought out a partnership with The Spirits in Motion to integrate their best-in-class methods with our processes to develop a robust program to roll out across our system of more than 40 restaurants," said Salupo.
The Spirits in Motion was established in 2011 by Founders Tony Pereyra and Phil Wills, who have a combined 30-plus years of bar and restaurant experience. Experts in every facet of the bar industry, Phil and Tony develop and deliver innovations in mixology and structured bar management programs.
"We created an intensive four-day training workshop and identified two bartenders or bar managers from each restaurant to attend," said Salupo. "Phil and Tony worked with us to provide best practices for the educational and hands-on portions of the training, as well as the new, improved bar station management."
Quaker Steak & Lube held the training in a restaurant so that trainees could learn and gain expertise directly in their work environment. Each participant received a backpack filled with bar tools they would be using during the training. The tools were theirs to take back to their restaurant to use as they trained others.
Each morning was filled with education ranging from basic terminology and tastings to optimal storage temperatures and a comprehensive menu review. A training module was developed for each of the three tenets of bartending: liquor, wine, and beer. "Many bartenders don't have a good understanding of wine varietals or the different styles of beer or spirits," said Salupo. "General knowledge of these things can give a bartender a great degree of confidence and help them earn guests' respect."
The training also focused on the proper sequence of service, best practices behind the bar, and how to use bar tools and techniques properly. "We put a large focus on the 'whys' as we felt this was the most important piece," said Salupo. "The 'whys' behind the 'what' included why our processes were changing, such as the advantages to adding the ice last when making a cocktail; why a cocktail is shaken a certain way; and why a cocktail is built in a mixing glass rather than a tin."
The afternoons were filled with hands-on training that allowed trainees to put it all into practice. "For instance, they could see the difference between measuring pours and not measuring, or how .08 of an ounce can alter the balance of flavors in the drink," said Salupo.
The training also included fun elements like pouring and speed competitions.
"We also rearranged and reorganized cocktail stations to improve workflow," said Salupo. "We showed them how to be more organized and efficient by setting up bottles and bar tools correctly. This also keeps the bartender in one place, which lends itself to guest conversation during the mixing and pouring process."
Quaker Steak & Lube didn't just stop at employee training—they also revamped their beverage menu to focus on quality spirits and trending categories like mules.
The brand also rolled out limited-time, seasonal drinks made with trending spirits including the Aviation Pineapple Sunrise (Aviation Gin, banana puree, pineapple juice, lemon sour, grenadine, Bordeaux cherry); and the Blueberry Jameson Mule (Jameson® Caskmates IPA Whiskey, Goslings Ginger Beer, blueberry puree, fresh blueberries).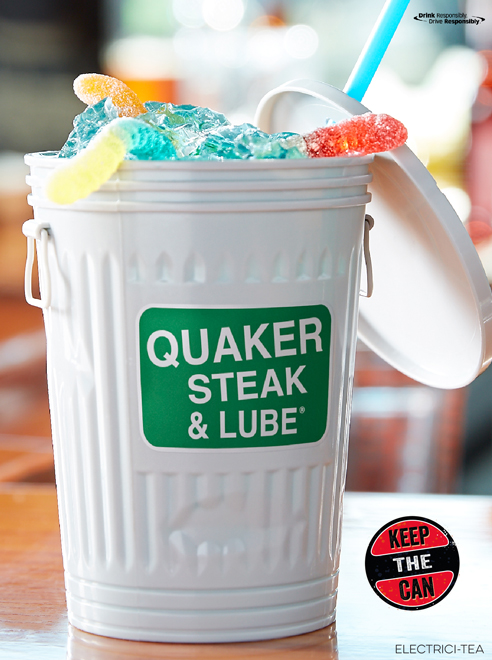 Three limited time "trash can" drinks upped the fun factor on the menu. Served in a plastic mock trash can that guests can keep, the drinks include a new take on a long island iced tea (Electrici-tea), a rift on a tropical rum punch (Rummy Worm), and a combination of premium liquors topped with an upside down can of Red Bull (The Bull-dozer).
Other changes included moving wine to the front of the menu and featuring new brands and expanded varietals, and responding to guests' desire for all-natural ingredients by bringing in 100% agave tequilas.
As a result of the training program and revamped beverage menu, Quaker Steak & Lube expects to see employee retention and an increase in liquor sales. "We believe the key is to create a culture where our bartenders care about what they are serving to our guests," said Salupo. "Bartenders who embrace the fact that they are not just serving a drink, rather using a thoughtful approach to create a spectacular guest experience, will turn greater sales and profits for their restaurant. This will also add to new guest count and increased guest retention."
By Ashley Bray
Photos (top to bottom): Shutterstock.com, Buffalo Wings & Rings, Quaker Steak & Lube, Quaker Steak & Lube.