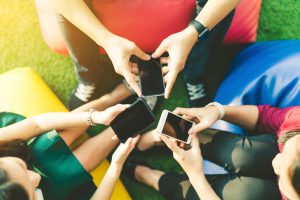 In an age where social media reigns supreme for staying in contact with friends and family, popular platform giants like Twitter and Facebook are proving that it's just as effective for business. Not only do these avenues provide companies with a way to retrieve valuable customer data—such as demographics, buying trends, etc.—they also provide a (mostly) free way to reach customers directly to build relationships and also market their offerings.
If any of these concepts sound foreign to you, or if you're having trouble engaging with your customers on social media, read on.
"Bars know their community of fans and followers," explains Caroline Baker, Content Marketing Manager of Main Street Hub, "and creating content that both represents their business and speaks to their interests is the best way to build their brand online and reach their loyal fans and potential customers."
Main Street Hub is a marketing company that helps local businesses build their brands from the bottom up. They assemble a team of writers, designers, and tech experts to take care of your social media, online reviews, and email marketing for you so that you can focus your time on other areas of your business. After all, you may be thinking about how taxing this all sounds for you after spending each night interacting with patrons on-site—let alone online.
Even if you insist on handling the grunt work or have already established a social media presence for your bar, it can be challenging to figure out what content you should actually be creating for your pages that would resonate with the masses. What should you be tweeting vs. posting on Facebook, and how often? What tone should you use? Baker shares a few tips on how to ensure your messaging effectively gets across to your customers—whether loyal or prospective.
"Engaging with current and potential customers across your social media channels is the most important thing to consider when creating content and solidifying your brand," says Baker.
This means establishing a rapport with your customers and letting them know you're listening—show that you appreciate their feedback and concerns. Respond to their questions, address and immediately apologize for any situations that went awry, and thank them for their business if they make a comment about your wonderful service. This will keep customers coming back and also impress new ones who will in turn keep tabs on your bar.
"Highlight your drink specials," suggests Baker. "If your bar offers a wide selection or if it's known for a particular type of beverage, that should be at the forefront of your content."
This would be a great time to promote customers' favorite and popular drinks. Consumers want to know that their go-tos are on your menu, but also that they have a variety of other options to choose from if they decide to try something new.
It's only natural that a chalkboard easel showcasing your happy hour specials will catch the attention of passersby walking in front of your establishment. But how will you get your message across to the rest of your community, or even those who stray a bit outside of the geographical area? This is where the reach of social media comes in.
"Focus on the experience inside your bar," says Baker. "Your potential customers want to know what the atmosphere will be like when they visit your bar. Share photos of customers having fun, and show off your space!
"Think about what people want to see and when they want to see it. After a long day, posting a photo of a frosty pint of beer might just be what your customers need to see to be convinced to join you for happy hour," continues Baker. "Posting at [certain] times of day when people are looking for that is a powerful tool to get people to visit your place."
According to Buffer, a software application designed to manage, schedule, and publish posting for multiple social media accounts at a time, "the early morning hours appear to be the time in which tweets receive the most clicks, on average. Evenings and late at night are the times when your tweets receive the most favorites and retweets, on average."
Though this data may differ depending on time zones, it's important to keep posting times in mind for higher customer visibility.
Baker also recommends using humor in your posts, "When people go to a bar they want to have a good time, so don't be shy about infusing friendliness and humor into your content. Whether that's posing a fun question or writing witty captions, your customers will love seeing more of your personality online."
Not only is it essential to build your Facebook, Twitter, and Instagram pages, monitoring your online reviews via Yelp, Google, and TripAdvisor can give you deeper insights into what your customers are looking for. These sites allow businesses a first-hand look at how customers react to what you offer—the feedback you should be paying attention to in order to improve your performance and sales. According to ReviewTrackers, a five-year-old company catering to multiple-location businesses, Cone Research reveals that four out of five customers will reverse a purchase decision after reading a negative online review.
ReviewTrackers offers a review management software designed to aggregate and centralize reviews from 85 different online review sites into a single, easy-to-use dashboard. From there, the user is able to analyze granular customer sentiments within the reviews, stay on top of "Trending Topics," and also discover ways to increase positive reviews.
"Online reviews have completely changed the customer journey," says Mandy Yoh, Head of Communications at ReviewTrackers.
In a recent survey conducted by ReviewTrackers, they asked consumers, "When choosing a new local restaurant, what is the most important thing?" The choices were: recommendation from family and friends; online reviews; social media advertisements; regular advertisements; e-mails; and TV.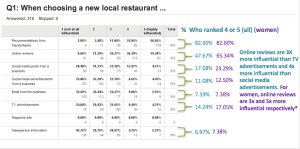 "What we found were that online reviews were three times more influential than TV advertisements and four times more influential than social media advertisements," says Yoh. "[Online reviews] were only second to 'a recommendation from a family member.'"
Yoh has some thoughts on the key elements that drive positive ratings for a business. "I think it's staying special to that specific brand that you are as a bar," says Yoh. "Put [customers] first. They're the lifeblood of your organization and without them none
of this would be possible. It's providing an excellent experience and then following up with that experience with them—Was it a great experience for them? Did they enjoy it? What were the parts that they enjoyed the most? What did they hate?—and then really using that in the strategy for which you run your business."
So what do you do if you notice a pattern of not-so-favorable reviews for your business? Yoh advises that the best way to handle negative feedback is to, most importantly, stay transparent.
"We think it's best for people to acknowledge the angry customer in the public forum," says Yoh, saying that the customer and the general public then sees the company attempting to make the experience right. "Acknowledge the customer, be kind and apologetic, and then fix the situation while offering the opportunity to provide more feedback."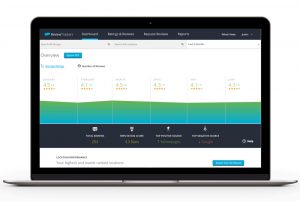 Baker agrees. "You want to be where your customers are and show that you are a brand that is listening and engaged," she says. "These are the platforms where your bar can build relationships with customers and get them in the door."
And as Yoh believes, you can never have enough feedback, "There are always ways we can all improve…in everything in life."
By Andria Park
Photos (top to bottom): Shutterstock.com, ReviewTrackers, ReviewTrackers.