If your bar is looking to offer a new revenue-raising product, you may want to look no further than pizza. A whopping 93% of Americans eat pizza at least once a month, and in 2019, pizza was a $155 billion global industry.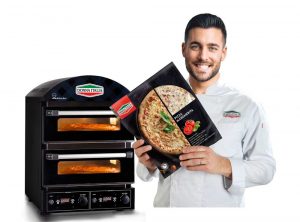 "Research says that if you eat more, you drink more. So pizza is definitely a product that goes well with beer, wine, or whatever cocktails you serve," says Gilad Shalom, founder & CEO of Donna Italia. "Once you have the ability to serve your customers with food, and especially with pizza, then they're probably going to stay longer and drink more."
Shalom founded Donna Italia, a unique plug-and-bake pizza solution, in 2011. The solution has made it easy for bar owners to take a piece of the pie of the reliable pizza business. "We provide a turnkey solution for the foodservice industry that basically enables each and every one of our customers to serve high-quality Italian pizza in three minutes," says Shalom.
Donna Italia's pizzas are 100% natural, made in Italy using premium ingredients, and are baked in single deck, double deck, or express Donna Italia ovens. The ovens are designed and manufactured in Italy incorporating leading technology and years of pizza-baking expertise. The Donna Italia pizza ovens include a high-quality stone surface with specific settings under the stone and inside the baking chamber to achieve optimal baking results. The ovens quickly heat up to 650-685°F, evenly baking Donna Italia pizzas in three minutes or less.
Donna Italia invested in new technology and eliminated all human contact in its production process to guarantee 100% compliance with the latest COVID-19 food safety measures. Each pizza is individually packaged in a flow pack wrapper. Users simply place and remove the pizza into and out of the Donna Italia oven with a pizza palette for an entirely touch-less experience.
Donna Italia pizzas can be kept for three days thawed in the fridge or 18 months frozen—eliminating costly food waste.
The Donna Italia pizza solution also eliminates the need for bars to invest in expensive equipment, high labor costs, and time-intensive operations to be able to serve pizzas. "You don't need a kitchen, you don't need a hood; you just need a regular 110V power outlet," says Shalom. "Since this is a very simple operational concept, anyone can make a great pizza just by putting it in the oven and taking it out when the three-minute timer beeps. It's also important to remember the consistency that you get with Donna Italia."
Donna Italia works similar to a subscription model—without the long-term contract. Bars sign a monthly agreement, receive the oven for free, and pay only for the pizzas. Bars must sell 300 Donna Italia pizzas per month to receive a single deck oven at no cost, and 600 pizzas per month to obtain a double deck oven. Bars can cancel at any time with ten days notice for a no-risk business model.
As part of the subscription, Donna Italia provides tech support, general maintenance and repairs, staff training, and printed marketing materials to help bars promote the authentic Italian pizza.
Currently, Donna Italia is offering a 10-minute virtual demo to interested customers. Clients who sign up with Donna Italia through the virtual demo receive a free, 24-pizza case.
Now may be a better time than ever to consider bringing in pizza as many states around the country are mandating that bars accompany all alcohol sales with food.
In Dallas, Texas, Donna Italia helped the brand-new Deuce's Bar to make strides toward meeting the state's mandate that at least 51% of their gross income be derived from the sale of prepared food.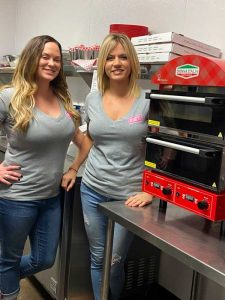 Deuce's Bar received its certificate of occupancy and planned to open a week later just a day before Texas bars were ordered to shut down due to COVID-19. "We had three months or so where we could take plenty of time to get everything exactly as we wanted it," says Deuce's Bar Co-Owner Amy Childers. "We had a lot of people helping us, and one of those people was Rodman Shields, who is the executive chef for a couple of restaurants in Dallas."
Childers and Co-owner Angela Wilkins have worked in bars almost their entire lives, but since they didn't know a lot about running a kitchen, Shields recommended they try Donna Italia. "Having our oven was what saved us when we first opened, and it allowed us to open," says Childers.
With only two other employees, the oven also made it easy for the co-owners to bartend and run a kitchen.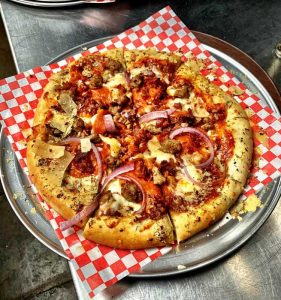 Deuce's Bar currently offers six specialty pizzas and a build-your-own option. In addition to dine-in, the bar offers a takeout option that includes a Donna Italia pizza and a six pack.
Customer reception has been positive, and Deuce's Bar upgraded to a double-deck oven to handle the increase in demand. "Having pizza to put in front of people," says Childers, "I would say it has contributed significantly to our profits."
Photos: Deuce's Bar