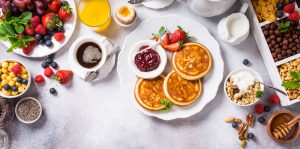 Restaurants of all descriptions have gotten cracking on the brunch trend with kitchens reinventing tried-and-true pancakes, egg dishes, and baked goods with innovative, globally-inspired recipe tweaks and combinations of ingredients. Bar managers and bartenders, in turn, are rising to the occasion.
Although the approach to creating daytime-friendly drinks varies from person to person, one thing most bartenders can agree on is that brunch is back in style as a social occasion.
"Brunch is no longer just 'breakfast on a weekend,'" says Jessica Norris, Bartender for Del Frisco's Double Eagle in New York City. "And these occasions usually require libations. As soon as brunch transitioned from a casual weekend meal to something more fashionable, brunch cocktails gained their own avenue."
As "Sunday Funday" (completely unplugging from the weekday routine) has become a popular lifestyle trend among Millennial customers, Dallas-based City Council Restaurant & Bar's General Manager JR Reyna set out to create drinks and an overall menu that was right in line with the trend's attitude and the customers' mission to enjoy a day of play and nostalgia.
"Brunch today is a different animal [from other meals], and it makes sense to have a completely separate menu," says Reyna. "Now that we have cold-brewed coffee on tap from a local purveyor, we're developing coffee cocktails that pair perfectly with the food or work on their own." The restaurant's brunch offerings range from bacon and eggs to Fruity Pebbles French Toast and Cheerio Waffles.
So, which came first?
The point of departure for the new breed of brunch is very much a chicken-and-egg question. Some bartenders argue a demand for greater variety in daytime-friendly cocktails happened in an organic, free-range kind of way.
"Although it is hard to pinpoint an exact time as to when specialty brunch cocktail menus became popular, I started making specialty brunch cocktails about six years ago in Charleston, South Carolina," notes Sonny Wallace, Beverage Director at The Collector Luxury Inn & Gardens in St. Augustine, Florida. "It was only a matter of time before that applied to craft cocktails and, more specifically, brunch cocktail programs."
Joe Swifka, Bar Manager of Salt's Cure in Los Angeles, says bartenders started to reflect what was happening in the kitchen with their cocktails, "I'm not sure if there was necessarily a demand for new brunch cocktails, [but as] the 'cocktail renaissance' played out, bartenders scoured every corner of the world of classic cocktails, updating and adding fresh ideas to the canon."
Swifka says that while the industry encourages the ongoing pursuit of the "new and creative," he sells more mimosas at brunch than any other drink. He stresses it is critical
to get classics right before progressing into original recipes, even as he's created a cocktail list appealing to a broad audience.
Others see the presence of brunch cocktails as a recent outgrowth of the craft cocktail movement. "It evolved out of and continues to evolve as restaurant cocktail lists continue to get better," affirms Adam Seger, responsible for the beverage programs at The Tuck Room in New York City and City Perch Kitchen + Bar in Fort Lee, New Jersey.
"The last couple of years in particular have really shown an increase in creativity for brunch drinks. They still love the bloody mary, bellini, and mimosa, but they love to see them reinvented such as Single Village Mezcal in the bloody mary, a splash of aperitivo in their bellini, and fruit like blood orange in a mimosa."
Los Angeles-based Patina Restaurant Group Mixologist Evan Charest also believes brunch cocktails have been a more recent movement. "I remember the demand for brunch cocktails took off in early 2015, with a lot of [beverage directors] realizing they could make more money if they offered programming beyond the basics," he says. "Though brunch had already become extremely popular, operators realized around that time that customers had an appetite for well-made cocktails in the late morning/early afternoon."
Keep it light and bright
According to Beverage Consultant Marcos Tello, who developed cocktail programs for Southern California restaurants Killer Shrimp, Killer Cafe, and Hamburger Hamlet, the cocktail boom dictates brunch classics like the mimosa have to "be on point." But as he sees it, the expansion of brunch menus invites the creation of new recipes with fresh fruit and "Tiki" influences. So he recommends balancing a menu with several cocktails that don't go "full octane."
"A good, spicy bloody mary helps with night-before hangovers, so ours is customizable to the guest's specific spice level," he explains. "For the Killer Shrimp recipe, we use its signature spice to create a salted rim that's both spicy and savory. However, some people need a bit of bubbly, which is why we offer our signature bellini and mimosa cocktails. What differentiates these 'standard' brunch cocktails is a house-made white peach cordial in our bellini and a combination of fresh orange juice, house-made orange curaçao, and orange oil in our mimosa."
Seger expresses that the bright acidity of citrus in cocktails helps cut through the richness of many brunch dishes. House-made pickles set bloody marys apart as well as "connect the dots between food and drink" at the Tuck Room and City Perch. When it comes to liquors, he likes to steer towards spirits with natural acidity such as tequila, mezcal, applejack, sparkling wine, and pisco, which he says open the appetite. Brown spirits are a bit heavy and not as stimulating at brunch, when customers want to remain alert.
Del Frisco's, meanwhile, points out that as brunch only occurs twice a week, it is important to use ingredients included in other cocktail programs so product is not wasted from week to week.
Although daytime drink recipes are often less complex, and average people can often prepare them at home, Charest points out that on-premise brunch cocktails often require more effort, skill, and preparation.
"Every restaurant offers bloody marys and mimosas, so it has become expected that if you serve brunch, the minimum you should be offering are those drinks," he says. "One pitfall of creating brunch cocktails is treating them like they are a lesser component of a bar program. The quality and commitment to these kinds of drinks needs to be the same as pre-dinner cocktails. One should also be sure that cocktail pairings should enhance foods rather than distract."
Swifka believes that customers during the brunch hour are less interested in cocktail complexity and more in refreshment and staying alert. "I keep things simple," he states. "I like sticking with riffs on classics [that are] mostly light and refreshing with some lower ABV drinks."
"I have used agar to clarify bloody marys and remove the weight of the cocktail while still allowing the full-bodied flavor to remain intact," Wallace says. "Tomatillo-based white bloody marys are also quite popular, delivering an even lighter experience. Cocktails that adapt ideas from aperitifs and digestifs are packed with flavor and either prep your appetite or settle the stomach after a heavy meal. Constructing a Spritz tends to be the most effective avenue to deliver the robust flavor profiles of both types."
Wallace also suggests keeping the number of drink selections light, as an extensive brunch cocktail program requires planning beyond creating and testing recipes. This may involve intensive training of staff, higher labor costs, and monitoring pour costs. He recommends developing pitcher options for groups, as they can be profitable at times where guests are less likely to order multiple drinks.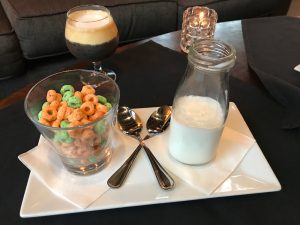 David Ficklen, Vice President of Operations of Pink Taco restaurants (headquartered in Los Angeles), notes that while its "Bloody Maria" is a population adaptation, margaritas play as big a role on the brunch menu as they do for lunch and dinner. He adds paying attention to customer requests and general brunch trends has helped the bar team reconcile a push towards creativity with flavor profiles and alcohol levels appropriate for daytime.
"Customers demanding variety beyond the traditional brunch dishes and flavor profiles pushed us to [create] things that would pair with our brunch items," he says. "This involved creating cocktails that had a bit more of a savory element to them to balance out the sweeter food items, as well as others that were on the lighter side and citrus driven. Though we keep the framework of our main bar program available at all times, we have a dedicated brunch menu that highlights specific things we've created to be compatible with our brunch food items."
In contrast to other restaurants that build upon what works in cocktails, Ficklen has taken a few risks with some original cocktails, and it's what has drawn customers to its brunch. "Our Avocado Chili Margarita is an example of this, as it echoes the way we approach creating new food dishes. It plays off our margarita tradition, but also represents our intention to think outside the box in bringing cocktail elements together."
Wake-up calls
Restaurant-bars are also using brunch as a hook for a variety of creative on-premise promotions. The Abbey in West Hollywood, California, features $15 bottomless mimosas and a free drag show at 1:00 pm on Saturdays featuring celebrity performers. Napa Valley Grille in nearby Westwood recreates a wine country experience in the city with its En Fuego program, showcasing artisanal products and seasonal ingredients from the area.
While many bartenders point to the use of fresh fruit in response to growing numbers of health-conscious customers, Viviane Restaurant at the Avalon Hotel Beverly Hills responded by launching a combination brunch-wellness program where celebrity fitness professional Kit Rich leads a pilates class immediately followed by a three-course "Kit-approved" brunch.
Even though Salt's Cure is known for its hearty meats and European-inspired plates, Swifka's Vacation Station taps into the wellness detox vs. "retox" trend of cocktails that can be created virgin or without alcohol.
Other promotions have a bit of a nostalgic twist, turning childhood favorites into indulgent adult treats. Enter the "cereal cocktail" with bartenders across the US spiking cereal milk and infusing cereals for creamy, dessert-y combinations that spark conversation.
And what would brunch be without coffee? Bar Director Alex Barbatsis is serving up his "Breakfast Negroni" for brunch at Cafe Birdie, while Charest is reinventing coffee with his Gentlemen's Breakfast (cognac-spiked coffee cocktail with a touch of cream) for Ray's & Stark Bar at the Los Angeles County Museum.
"I love working with cold brew as it gives the purest expression of the coffee and won't water down the cocktail or caffeine," notes Charest. "The black walnut bitters gives a nice robust nut flavor that really brings the drink together."
Simeon Humphreys, beverage manager at Stephen Starr's Steak 954 in Ft. Lauderdale, Florida recently added six decidedly non-traditional brunch cocktails to the menu that integrate everything from cold brew coffee mixers and coconut water ice cubes to a Japanese-inspired drink, and the menu offers something to impress every spirit lover.
By Elyse Glickman