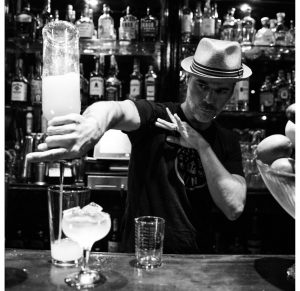 The United States Bartenders' Guild (USBG) announces it has collaborated with highly regarded veteran bartender Michael Neff, of The Cottonmouth Club (Houston), to simulcast The Cottonmouth Club's "Virtual Bar" on Tuesday, July 28 at 7 p.m. Pacific/9 p.m. Central/10 p.m. Eastern. The simulcast will be available through the USBG's Facebook page.
Neff, who many will know from his time at such acclaimed New York bars as Ward III, Rum House, and Holiday Cocktail Lounge, has hosted the Virtual Bar on a nightly basis since March 22 and has become a leading advocate for the bar industry and bartending community in the face of the global COVID-19 pandemic. Since Neff began the broadcasts, which have aired through Neff's personal Facebook page and The Cottonmouth Club's Instagram channel, the videos have amassed tens of thousands of views and have drawn considerable interest from national news media spotlighting the effect of the pandemic on the bar community.
Said Neff, "The bar community in general is bearing a large part of the burden in this second wave of shutdowns, and instead of guidance or gratitude we've largely shouldered the blame. We need everyone who loves bars to raise their voices with ours, especially the hundreds of thousands of people who work in bars around the country. We're excited to be working with the USBG to help amplify the message that the bar culture in America is in grave danger and must be saved."
For Tuesday's simulcast, Neff will welcome Henry Preiss, of HPS Epicurean, LLC d/b/a Preiss Imports to discuss the synergistic relationship between craft spirits, the bars that stock them, and the bartenders who use them. Preiss is widely known as the "Godfather of the Craft Spirits Movement."
In his 46-year career, Preiss has developed a reputation for implementing grassroots techniques to grow unique finds into large brands, many of which are today found in use across the United States.
In 1987, Henry founded Preiss Imports and claimed his seat at the forefront of the mixology revolution and having one of the most highly regarded whiskey portfolios of its time. Through his passion for great finds, and perseverance through changing times, Henry directed the success of many products considered today to be landmark brands, including Luxardo (Maraschino) and Springbank Scotch among many others.
Today, Preiss is a founder and partner in HPS Epicurean, LLC d/b/a Preiss Imports and is once again bringing fresh and new brands to the USA, staying true to his motto of putting Heart, Passion, and Soul ("HPS") into every aspect of life.