This Thursday, February 25, Barr Hill Gin Distillery, based in Montpelier, Vermont, will host a "Tropical InstaLive" at 5pm, co-hosted by Master Mixologist Shannon Mustipher and Barr Hill Gin's Head Bartender Sam Nelis.
The "Tropical InstaLive" kicks off the distillery's Tropical Weekend and will feature discussions around Tiki cocktail culture and demos from both Shannon and Sam.
Acclaimed bartender; author of Tiki, IACP's Cocktail Book of the Year; and winner of the Pioneer Award at Tales of the Cocktail's Dame Hall of Fame, Shannon will shine a light on the history of Tiki and why gins, like Barr Hill Gin, have an important role to play in this exuberant style of drink. Sam will explain how local and seasonal Vermont flavors can excel in tropical cocktails as he and Shannon demonstrate drinks live.
Below is the recipe for one of the tropical gin Tiki drinks that will be demonstrated.
Jungle Cat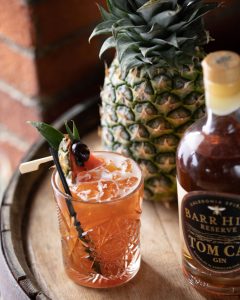 Ingredients:
1.5 oz Tom Cat Gin
0.75 OZ Campari
1.5 OZ Fresh Pineapple Juice
0.5 OZ Fresh Lime Juice
0.5 OZ Dark Robust VT Maple Syrup
Directions:
Shake and strain into a rocks glass filled with pebble ice.  Garnish with a Campari-soaked dehydrated pineapple.
C. 2018 Sam Nelis @ Caledonia Spirits.
A Play On The Famous Jungle Bird C. 1978 @ The Aviary Bar Kuala Lumpur Malaysia