Tales of the Cocktail Foundation (TOTCF) is pleased to announce the full agenda for the 2021 Tales of the Cocktail® (TOTC) festival, which will take place in a hybrid, digital and in-person, format from September 20-23.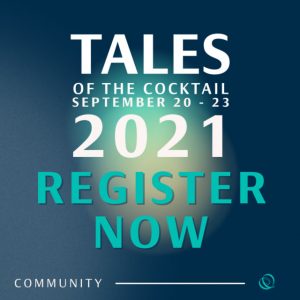 Open to all attendees and media guests, the festival agenda is now available via the Tales of the Cocktail website and all-new festival app for iOS and Android. Headlining the program and encompassing this year's theme of "community," will be the conference's signature educational initiatives featuring more than 60 digital seminars, Beyond the Bar activations, the Dame Hall of Fame® Induction Ceremony, an all-new Diversity Distilled Career Fair, the return of Meet the Distillers, and the annual Spirited Awards®.
The festival is proud to feature premier programming that supports the global spirits
industry with complimentary digital offerings accessible across all timezones via the interactive online library and Tales of the Cocktail app.
Kick Off: Toast to Tales 2021 and Keynote
The conference will kick off with the annual Toast to Tales 2021 hosted at the Sazerac
House in New Orleans. On Monday, September 20, Tales of the Cocktail Foundation
in partnership with Sazerac House will host a private reception and broadcast the event on the Tales platform with featured toasts from Sazerac teams in three satellite locations.
Following Toast to Tales, Dr. Emiliana Simon-Thomas, an expert on joy and wellbeing, will be joined by host Sandrae Lawrence for the keynote for Tales of the Cocktail. Dr. Simon-Thomas, the science director of the Greater Good Science Center, an organization dedicated to science-based insights for a meaningful life, will set the tone for the festival with her address on The Science of Enduring Happiness.
The keynote will explore strategies for reclaiming joy and happiness in the wake of the pandemic, cover key constructs from happiness science like positivity, resilience, generosity, gratitude, and awe, and dispel some common myths about why some people are happier than others. Emerging from an unprecedentedly difficult time, this discussion will seek to provide listeners with the insights and tools to pave a pathway to enduring happiness.
Educational Seminars, Roundtable Discussions, Q&A Sessions, and More
Tales of the Cocktail will feature more than 60 educational sessions, including seminars, roundtable discussions, and more across Tales' three education streams (Business, Culture and Beyond the Bar), featuring over 250 industry leaders
Highlights from this year's slate include:
Breaking Bias: Disrupting Unconscious Decisions That Lead to Unexpected Consequences,
moderated by Tony Chatman
Digging for Peat: A Geeky Dive into the Production of Peated Scotch Whisky, moderated by
Felipe Schrieberg
Psychological Mindfulness and Drinking, moderated by Hoorie Siddique
Texas: The Wild West of Whiskey, moderated by Nico Martin
The Mothers of Spirits: The Unwritten History of Women in the Industry, moderated by
Jessamine McLellan
The Pioneers: How Non-Alcoholic Spirits are forging a new path through innovative channels, moderated by Justin Lew
The Foundation will also host 30 seminars in a live panel format this year. Highlights include:
Agave Geeks Unite: Tequila Deep Dive, moderated by Jesse Estes
Cacao: An Understanding of Its Origins and Uses, moderated by Charlotte Voisey
Battle of the Classics: The Old Fashioned, moderated by Poppy Croft
Escape: The Drinks Trend of the Year, moderated by Jacob Briars
Koji Cocktails: From "Simple" Syrup to Enzyme Magic, moderated by Don Lee
Nepotism and Tokenism: Two Sides of the Same Coin, moderated by Chris Cabrera
A variety of Roundtable Discussions will tackle pressing issues facing the industry right now, including industry recovery, race, equity and inclusion, as well as looking ahead to the future.
Roundtable topics will include:
A New Operational Paradigm: Building a Personnel-Focused Future, moderated by Laura Green
An Imperfect Guide to the Art of Celebrating Cultures, moderated by Anna Nguyen and
Salvador Periban
Diversity in Spirits: (Re)Claiming our Narrative as BIPOC and Multicultural Industry Leaders,
moderated by Joseph Solis
Rum is Ready for Its Flowers: Decolonization, Paradigm Shifts, and a New Path Forward,
moderated by Celine Bossart and Monique Brackett
The Needed Evolution in the Return of Bars, moderated by Kyle McHugh
The Power of No: Creating Boundaries & Protecting Your Energy, moderated by Allison Parc
Marquee Programming: Spirited Awards, Meet the Distillers, Dame Hall of Fame, and Meet at Tales
Spirited Awards:
The 15th annual Spirited Awards Ceremony will announce winners for the Helen David Lifetime Achievement Award, Pioneer Award, Timeless U.S. Award, Timeless International Award, and the five awards within the Writing and Media categories. The virtual ceremony
will be broadcast on Tales' digital platform on Thursday, September 23.
Meet The Distillers:
Back for TOTC 2021, on Tuesday, September 21st, 11:30am-12:30pm CST. Distillers, Blenders, and Makers from over 20 spirits brands will be available to interact with attendees and answer questions live. Covering topics from distillation techniques, sustainability initiatives, to marketing strategies, these spirits masters are open to sharing their knowledge and discussing their products.
Dame Hall of Fame:
A virtual ceremony will be held for the 2021 inductees on Thursday,
September 23. Dame Hall of Fame is a celebration of leaders who have made unique
and lasting contributions to accessibility and intersectionality within the global hospitality industry.
Meet at Tales: Q Mixers, America's leading premium carbonated mixers company, is the Official 2021 Mixer for Tales of the Cocktail. As the world begins to reopen and acclimate to a hybrid digital and physical gatherings, Q Mixers and TOTCF are inviting the global drinks industry to 'Meet at Tales' as a way to inspire and impact the community. The Meet
at Tales program is virtual, and offers six lucky TOTC participants one-on-one meetings with some of the industry's most influential leaders, from entrepreneurs and distillers to bar-owners and educators, providing an opportunity to connect with and learn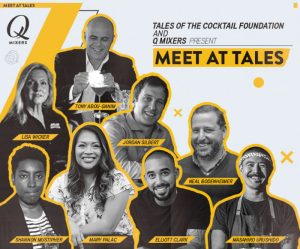 from leaders in the industry – which is particularly important after this past year. Each of the selected participants will receive a cocktail kit including Q Mixers product and a spirit for the industry leader's signature cocktail that they created for the occasion, as well as an ice tray and jigger. After TOTC 2021, the Q Mixers Industry Leaders, including Jordan Silbert, founder of Q Mixers, Elliott Clark, Apartment Bartender, Lisa Wicker, President and Head Distiller of Widow Jane Distillery, Tony Abou-Ganim, The Modern Mixologist and more, will select one person from their one-on-one meetings for a one hour follow-up meeting to continue their conversation. In addition, Q Mixers will host a series of Mix at Tales Happy Hour virtual events, moderated discussions featuring two of the industry leaders who will share their experience and field questions, all while enjoying cocktails made with Q Mixers! The personalized cocktail kits, which include Q product and spirit for the industry leader's Q cocktail, as well as an ice tray and jigger, will be awarded to two lucky participants at each happy hour.
Applications to participate will be open from July 19th through August 19th, 2021.
Day of Service + Diversity Distilled
Tales of the Cocktail Foundation and Red Bull will host a Day of Service benefitting New
Orleans Community Fridges to provide meals to at-risk community members in need
of extra food for their families, as many hospitality workers in New Orleans frequent these grassroots fridges and pantries. Tales of the Cocktail's team, along with local volunteers, will prepare, pack, and deliver the food to the community fridges prior to the kick off of TOTC2021.
Additionally, participants are invited to join Diversity Distilled for a digital career fair
powered by TOTCF. A host of employers will join TOTC on the conference app to review resumes, post job listings, and share insight into post-pandemic hiring practices. Employers and job seekers are invited to register for TOTC2021 free of charge, and check out the career fair in the left-hand navigation of the app.
Beyond the Bar
TOTCF is proud to share the continuation of its ongoing mental health and wellness arm, Beyond the Bar, which focuses on the holistic bartender and addresses critical issues within the industry from substance use and abuse to sexual harassment, race, equity and inclusion.
Beyond the Bar programming serves to highlight and explore the diverse topics that make a well-rounded drinks industry professional and digs into complex and sometimes difficult topics in order to challenge the industry to be more equitable while supporting the community through present day obstacles and challenges.
Beyond the Bar highlights for TOTC2021 include fitness and mindfulness activations like Amie Ward's Building Community Through the Body series, seminars like Chockie Tom's Indigenous Visibility and Cultural Empowerment in the Drinks Industry, and interactive events like Hannah Lanfear's Cocktail QTs present Queer Dance Party.
Virtual Booths + Tales Partners
There will be custom sponsor booths on Tales' digital platform and app, which will allow guests to learn about products and brands, watch brand videos and chat with the exhibitors. Sponsors will provide additional opportunities for attendees to learn, engage, and network via virtual events, panels, and brand education seminars.
Tales is proud to partner with sponsors to bring a premier festival experience to New Orleans and beyond. 2021 TOTCF Underwriting Sponsors include: William Grant & Sons, BACARDÍ, and Beam Suntory; plus Official Partners: Perrier and Q Mixers.
COVID-19 and Tales of the Cocktail
The Tales of the Cocktail Foundation strongly supports a safe and healthy environment in which to foster community. Tales of the Cocktail Foundation will require proof of full COVID-19 vaccination for all in-person Tales of the Cocktail (or Tales) events taking place in New Orleans, in conjunction with host venues. The Foundation strongly encourages brands and host partners to adhere to all local COVID-19 guidelines nationally and internationally, as well as request for proof of vaccination for in-person participation where
possible.
The full agenda and talent line-up for Tales of the Cocktail 2021 is now available via the Tales website and all-new iOS and Android app, available on the app store. Register now for free and begin building the perfect festival agenda.