Taffer's Tavern, the innovative new full service tavern concept founded by industry leading hospitality expert and star of Paramount Network's Bar Rescue, Jon Taffer, announced George Barton as the restaurant of the future's new vice president of corporate operations. Barton is joining the Taffer's Tavern team with nearly 40 years of leadership and consulting experience in restaurant and bar operations, sales and innovation.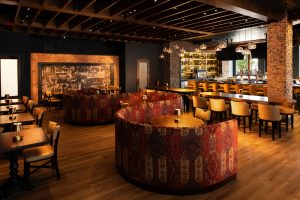 "As we continue to secure multi-unit franchise development agreements and prepare to open multiple Taffer's Tavern locations across the country, it is the right time to bring a leader with George's extensive operations experience, unique perspective and diverse skillset to the organization," said Jon Taffer. "Taffer's Tavern delivers an experience unlike any other in the restaurant industry and George's passion for delivering best-in-class results makes him a key part of the brand's future. I've known George for years and trust he is the right addition to our growing team."
In his new role, Barton will oversee day-to-day operations for Taffer's Tavern while developing and implementing procedures that enhance efficient business practices. He will work closely with franchisees and their management teams to increase productivity and efficiencies, analyze profit and loss to streamline and increase revenue, and foster relationships with local and national vendors. Barton will also ensure that the Taffer's Tavern brand and culture is consistently used and adopted throughout the company.
Barton spent nearly 30 years with TGI Friday's, serving in several divisional vice president of operations roles before being selected by the CEO to lead the reengineering team overseeing food and beverage production and procurement. He was later promoted to vice president, bar and innovation where he revitalized the beverage program, significantly increased beverage sales and established essential relationships with vendors and distributors. During his tenure, he successfully opened more than 50 new restaurants while in multi-unit roles and achieved multiple accolades, including several Divisional Vice President of Operations of the Year and Presidential Diamond Gold Star awards for growing margins, sales, teamwork and retention.
Most recently, Barton served as senior operations and beverage consultant at a notable restaurant consulting firm enhancing the trajectory and profitability of businesses. A veteran, Barton served in the United States Air Force as an E5 staff sergeant.
Now open in Alpharetta, Georgia, Taffer's Tavern has additional locations slated to open in Washington D.C., Las Vegas, Boston, Orlando and more. Inspired by the quintessential neighborhood pub, a regular gathering place for locals and visitors alike, Taffer's Tavern is designed with traditional Old-World taverns in mind, its ambiance is inviting, warm and comfortable, distinguished by dark woods, soft leathers, copper accents and elevated tavern food and beverage offerings. The innovative restaurant concept, developed by Taffer, features the industry's highest safety standards for both guests and staff. It is led by the kitchen and bar of the future and features the latest advancements in food prep/service technology.
Taffer's Tavern is currently seeking experienced franchisees to continue bringing the Taffer's Tavern concept to the 50 largest media markets throughout North America. For more information about Taffer's Tavern franchising opportunities, watch this video or visit www.fransmart.com/tafferstavern.