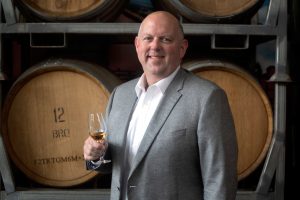 Melbourne-based whisky distillery Starward is embarking on its next phase of growth through a combination of new markets, expansion plans and new team appointments.
Over the last year Starward has expanded globally, launching an international presence in the US, UK, France, and Japan. Through driving distribution in these key markets, Starward is leading the way for Australian Whisky around the world.
To meet this demand, Starward recently announced that it will significantly expand production capacity during the first half of 2020 with a multi-million-dollar investment. Founder David Vitale, who is now based in the US, says, "It's hard to believe it was just three years ago we completed our monumental upgrade to our new distillery location in Port Melbourne. Now, we are once again taking a huge leap to meet the rapidly growing, local and global, demand for our whiskies – particularly Two-Fold Double Grain Whisky which has exceeded all of our sales expectations in our first year, winning "Best Australian Blended" at the World Whiskies Awards in London and 92 points from Wine Enthusiast and Whisky Cast in the US."
To oversee these acceleration plans, Starward welcomes its new CEO Simon Marton. Simon joins Starward with over 20 years' experience in wine and spirits, most recently as Global CMO of Treasury Wine Estates. "Starward is a brand I have admired for its innovative and unconventional strategy," says Simon. "I'm excited about the opportunity to propel Starward to be the first globally famous Australian Whisky brand, especially at such a pivotal time when the Australian spirits category is going from strength to strength both in the domestic and international markets."
The new appointment comes after former CEO, Andrew Macdonald, made the humble decision to step aside from his position to make way for a new leader to take Starward to the next level. "Andrew has been instrumental in establishing the platform for Starward's growth over the last five years," says David. "That commitment and leadership positions us today in the best possible place to take our whisky to the world. We're all looking forward to working with Simon to pursue Starward's potential in Australia and abroad. We have every reason to believe that our Starward bound ambition is in the right hands."
Starward Whisky was first introduced in the US in May 2019 with the introduction of its single malt whisky, Starward Nova, followed shortly by its double grain whisky, Starward Two-Fold, in September of the same year to national distribution.