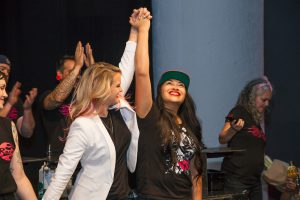 Speed Rack, the all-female bartending competition that raises money for Breast Cancer Research, will host its Tri-State competition in NYC on Sunday, Jan 7!
Mary Palac (pictured, of Paper Plane bar in San Jose, CA) won season 7's first regional competition in San Francisco last month.
Speed Rack has raised over $700k for breast cancer charities to date and have some amazingly talented female bartenders vying to win this year's Tri-State Speed Rack regional competition.
For attending consumers, there are about 25 different cocktails to try from some of the best bartenders and brands in the Tri-State area. It's also a great event for cocktail connoisseurs to enjoy some cocktails, hob nob with the most talented bartenders in the area, and raise money for those affected by breast cancer.
Purchase tickets for the event.