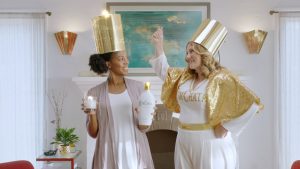 RumChata is coming off a very successful 10th anniversary with a new humorous marketing campaign that turns receiving its iconic Gold Cap as a fun and honorable award for the successful completion of everyday personal tasks.
Starring the RumChata Fairy, the "You Get A Gold Cap" campaign launched with a national TV ad on NBC's NFL Sunday Night Football on October 27. The fifteen second spots are also scheduled for NBC's Christmas at Rockefeller Center, The Voice Finale and ABC's Country Music Awards. The campaign will also expand to national print insertions in People's Sexiest Man Alive and Cosmopolitan.
Through the "You Get A Gold Cap" campaign the RumChata Fairy takes the brand beyond holidays and special occasions and drives the message that RumChata is a cream liqueur for everyday enjoyment. The light-hearted campaign shows the RumChata Fairy giving Gold Caps to people accomplishing normal routine tasks such as making a to-do list, walking stairs at work and watching a robot vacuum their apartment and elevating completion of those tasks to a reason to celebrate. In addition to TV and print, the RumChata Fairy provides the brand a recognizable character that will also be used in social media and at live events.
"The RumChata Fairy is going to be very, very busy," says Charlie Maas, RumChata Chief Marketing Officer. "There are millions out there that deserve a gold cap and we want to make sure they know RumChata is supporting them with a drink they can enjoy every day."