Q, the Brooklyn born-and-bred brand of spectacular mixers, announces that IRI, a top American research firm, lists Q as the fastest-growing premium carbonated mixer brand in the US as of the most recent 12-and 24-week periods of 2018; and Jefferies Group, a leading Wall Street investment bank, cites Q as the best-known premium carbonated mixer line among US bartenders.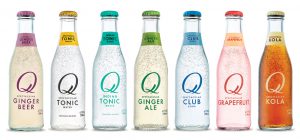 IRI reports that Q's range of premium mixers, which includes Spectacular Tonic, Indian Tonic, Grapefruit, Ginger Ale, Ginger Beer, Club Soda, and Kola, grew more than 46 percent in the most recent 12-week period ending May 20. This represents a faster rate of growth than any other premium mixer line in America. Fever Tree, the second fastest growing premium mixer line, grew by 29 percent.
In a proprietary survey of US bartenders released by Jefferies Group on June 22, Q was found to have the highest awareness of any premium mixer line, with awareness more than twice that of the next premium carbonated mixer brand (Fever Tree).
As a category, Jefferies notes that premium carbonated mixers are poised to see dramatic, multi-billion-dollar growth in the coming years in the US, mirroring a trend in Europe. Q's position atop the premium carbonated mixer category in the US puts it at the tip of the spear of an additional trend: according to Jefferies, 72 percent of US bartenders now believe premium gin should be mixed with premium tonic water and 68 percent of US bartenders think consumers will pay extra for premium mixers.
"We're right at the tipping point for the premium mixer category in the US and it is really exciting to be leading the charge," said Jordan Silbert, Founder and CEO of Q Drinks. "Every day more bars, restaurants, and consumers realize that the mixer is 70 percent of a highball so it should have the same quality and sophistication as your spirit. The exact same thing happened in Europe about three years ago, when premium mixers hit 5 percent market share, it no longer was acceptable to serve yourself or someone else a good spirit with a lousy mixer."
Q carbonated mixers, first introduced by Silbert in 2007, can now be found in more than 11,000 on- and off-premise accounts in the US.