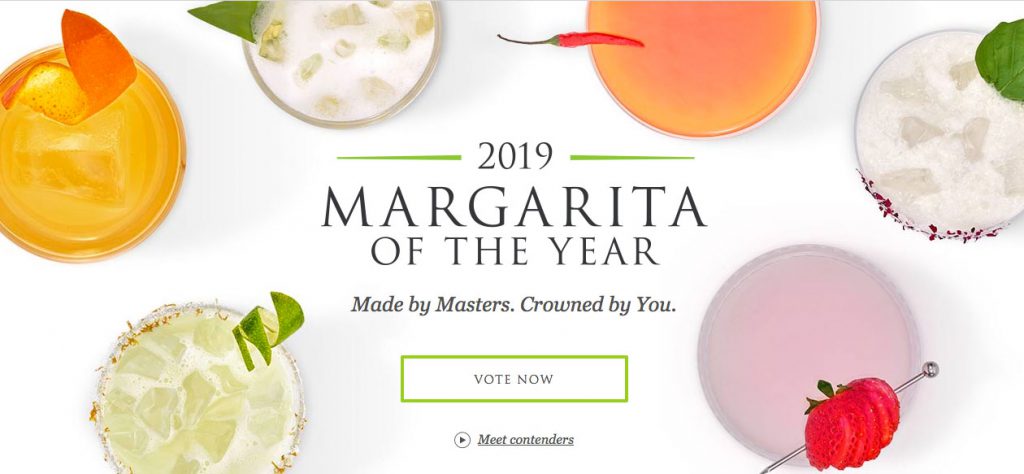 Raising a glass to cocktail creativity and perfection behind the bar, Patrón Tequila invites fans to celebrate International Margarita Day as it embarks on its search for 2019's "Margarita of the Year." The competition, featuring eight refreshingly unique twists on the iconic cocktail, kicks off today with the winner selected just in time for Cinco de Mayo.
Patrón, the global leader in the ultra-premium 100 percent agave tequila category, is bringing together eight bartenders from across the globe to showcase their most unique and creative interpretations of the classic margarita. Each contender in the search draws inspiration from their local regions to craft fresh flavor combinations – think juniper and rose, lychee and ginger – as they vie for "Margarita of the Year."
Fans can vote for their favorite once daily now through www.MargaritaoftheYear.com. The margarita with the most votes will be crowned on April 25, 2019, in a global finale at Hacienda Patrón in Jalisco, Mexico. The bartender who creates the winning recipe will be handed the coveted "Margarita of the Year" trophy to proudly exhibit in his or her bar.
"There's tremendous merit in a bartender who can craft a simple, classic margarita with the finest quality and freshest ingredients, but these eight bartenders have truly transformed them into masterpieces," says Lee Applbaum, Global Chief Marketing Officer at Patrón Tequila. "Using inspiration from local ingredients, stunning garnishes and of course the perfect tequila – Patrón – these globally inspired drinks are elevated into true works of art."
Each bartender selected to participate in this year's search created unique, flavorful interpretations of the margarita to highlight the cocktails versatility. The margaritas and participants include:
"Paseo Margarita" with coconut and basil, by Jacyara de Oliveira in Chicago
"Pasifika Margarita" with pineapple and coconut, by Samuel Jimenez in Oakland
"Golden Hour Margarita" with turmeric and pineapple, by Natalie Jacob in New York City
"Flamingo Park Margarita" with grapefruit, by Tyler Kitzman in Miami
"Margarita Caliente" with passion fruit and chipotle, by Adrian Martinez in Guadalajara
"Margarita Amore" with apple and chili pepper, by Cristian Bugiada in Rome
"Dynasty Margarita" with lychee and ginger, by Jay Khan in Hong Kong
"Wild Rose Margarita" with juniper and rose, by Makina Labrecque in Calgary
"What bartenders around the world are doing to elevate the beloved margarita is nothing short of awe-inspiring," said José Luis León of Mexico City, whose Verde Margarita was crowned as 2018's Margarita of the Year. "I've witnessed first-hand the unbelievable riffs these Margarita masters can come up with, and I'm excited to see what's in store for this year's search."
This year fans can get to know the eight cocktails in numerous ways including various local Patrón-sponsored events and activations over the coming months leading up to Cinco de Mayo. Once fans have explored each of the margaritas, they can vote for their favorite interpretation via:
Casting their vote on the dedicated Margarita of the Year website
Liking or commenting on a social post or video about a specific contender
Sharing, re-tweeting, and pinning posts about a specific contender
Voting at a Patrón-sponsored event, including the final showdown at the Patrón Hacienda
Purchasing a dedicated Cocktail Courier kit that is sold for each contender
"With Patrón Tequila as the base, it's easy to create a margarita that's a cut above," remarked David Alan, Director of Trade Education & Mixology at Patrón Spirits. "It's exciting to see our cocktail-crafting contenders take the margarita to the next level, spotlighting this storied drink and furthering its position as one of the world's most beloved cocktails."