As the hospitality industry continues to reopen and rules around indoor dining and social distancing are remove, PPDS – the exclusive global provider of Philips professional displays – is excited to announce the launch of a new and exclusive 'game-changing' air quality monitoring solution for bars and restaurants.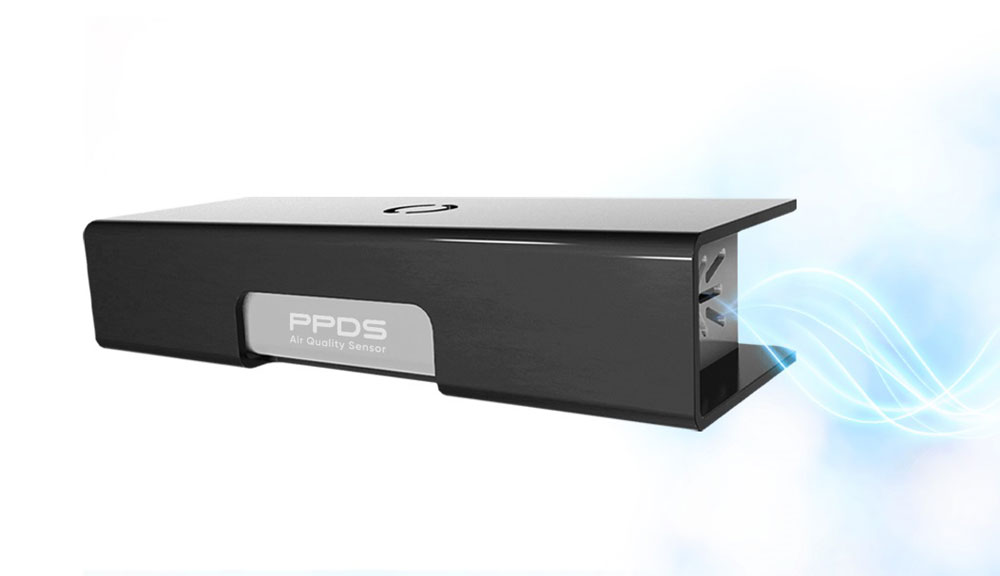 Available for pre order now, the plug and play 'PPDS Air Quality Sensor', fits directly to new or existing Philips digital signage displays or professional TVs, and has been designed to help bars and restaurants introduce an additional, cost-effective layer of protection for their staff and customers against the inhalation and spread of potentially harmful indoor air pollutants and viruses.
With the importance of hygiene never more important nor scrutinised, concern around indoor air quality is often still overlooked, despite being responsible for an estimated four million deaths per year, according to the World Health Organization (WHO). However, while the focus for many businesses and the advice from many national governments has and continues to concentrate heavily on the cleaning of surfaces, regular use of hand sanitiser, or limiting interaction or movements (such as app ordering), poor air quality can present equal, if not greater, threat to an individual's short and-long term health.
A breath of fresh air
Part of PPDS' continued efforts to support the hospitality industry (see also, PeopleCount), 'the new PPDS Air Quality Sensor', comes equipped with four advanced sensors, which measure room temperature, humidity, carbon dioxide and particulate matter, all of which can have a major impact on people's health and wellbeing.
Temperature: Influences virus infection rate and has an impact on performance in the classroom or workplace
Humidity: Virus particles can remain highly infectious in humidity levels below 30% and above 55%
Carbon dioxide: CO2 is an excellent indicator of indoor air quality and proper ventilation of a workspace or classroom
Particulate matter: Higher levels of particle pollution can lead to greater risks of infections, not only COVID-19, but also other viral illnesses
Connected and powered by a single USB-A cable, PPDS Air Quality Sensor automatically collects and displays live data from single or multiple rooms and locations (even buildings), which is then analysed, translated and displayed in real time via an easily digestible dashboard and app.
Stay alert to stay safe
Whenever air quality falls below a safe standard* (CHANGE FOR U.S MEDIA below a safe standard) – alerts will automatically be sounded, sent and displayed, providing opportunities to take immediate and necessary action. The app will even make tailored recommendations on improving the air quality based on its sensor readings, whether that's something as simple as opening doors and windows, switching on air purifiers (if available), adjusting room temperatures, or even relocating to other areas of the venue, where possible.
Chris Colpaert, General Manager at PPDS, commented: "Over the past 18 months, the world has changed in our personal and work lives. Our focus on health and hygiene is something that has never been more important, both to a business and to the customer and, as normality returns, it's vital that the environment we are in, whether it's for work or pleasure, is as safe as possible."
He added: "Like airborne viruses, the quality of air, (unless at very extreme levels) is not visible to the naked eye. This can be dangerous as it can easily become something that's not considered, maybe even ignored. The risks are there, though, and they can pose a significant danger, both in the immediate and, perhaps more concerning, the long-term future. Being aware of these risks, taking preventative measures and, reassuringly, letting people know that their health is being taken seriously, is something that brings untold benefits – including reputationally. It's vital customers and staff feel safe and comfortable in their surroundings."
Healthy building, healthy staff, happy customers
Poor air quality in indoor environments has been proven to have a significant impact on a person's wellbeing, affecting their short and long-term health, reducing energy levels, focus, productivity and ability to process information. It's estimated that the average person spends 90pc of their time indoors, breathing in approximately 11,000 litres of air every day.
Contributors to poor indoor air quality include, but are not limited to, the way the venue is heated, cooking methods, poor ventilation, dampness, dust, chemicals in cleaning products and building materials.
Commonly described as 'Sick Building Syndrome' (SBS), poorly ventilated buildings can unknowingly be enhancing the risks and spread of common and highly infectious diseases and viruses, such as flu and bronchitis, while increasing the potential for staff absence and economic losses for both companies and staff.
According to the World Health Organization (WHO), symptoms of SBS can include headaches, dizziness, nausea, skin irritation, eye irritation, nose and throat irritation.
For more sensitive groups, the quality of indoor air can contribute to serious life-threatening health conditions, with particulate matter being the cause of numerous respiratory ailments including asthma, respiratory inflammation, decreased lung function, and cancer. People who spend significant time in poorly ventilated rooms (such as staff) also have a 50pc higher risk of developing allergies, while prolonged stress can impair the immune system and lead to heart attack, cancer, arthritis, dementia, neuro-degenerative diseases and death. Indoor air pollution can be caused by many things.
"These risks to health should not ever be ignored," Chris added. "Understanding the impact that poor air quality can have on a person brings a whole new meaning to the bar tender's question 'what's your poison?'. In contrast, healthy air can help create a healthy and more energetic team and a happier customer experience."
Customer confidence
Trust and confidence are also key factors for many customers returning to bars and restaurants, particularly as rules around masks and social distancing are relaxed or removed altogether. It's therefore important for venues to be able to demonstrate additional precautions are being taken and overcome any potential concerns in a customer's decision making.
Research from GSK Consumer Healthcare and IPSOS, revealed the pandemic has had a significant impact on people's behaviour and attitudes to self-care, with 65pc of respondents in Germany, Italy, Spain and the UK stating that they are more likely to consider their health in day-to-day decision making. A significant proportion of those surveyed are now taking extra precautions to avoid illness transmission, including 80pc in Spain, 79pc in Italy, 68pc in the UK and 60pc in Germany.
Meanwhile, the latest 2021 Hospitality Consumer Forecast survey from CGA shows more than half (51pc) of people would return to a venue within the first few weeks of its reopening. The survey also showed 46pc of people would return to a pub, and 49pc would return to a restaurant, when government restrictions are lifted but would feel cautious and need additional precautions.
A number of countries are also starting to increase their focus on air quality. The Belgian government is currently supporting public venues – from restaurants to swimming pools – in implementing new measures to monitor and manage carbon dioxide levels and improve air quality and ventilation to prevent further spread of Covid 19. Many of the world's top experts on the spread of diseases have also called for big improvements to air in buildings, with 'ventilation certificates', like those issued for hygiene, also being encouraged.
Colpaert added: "Air quality can change in an instant, with a long list of factors all playing a part. That can be outdoor pollution getting inside from an open door, the temperature or humidity, an open fireplace, types of cleaning products used, poor ventilation in the kitchen, or someone walking in with a virus. A cough can travel 1.8 metres, while a sneeze can travel as far as 8 metres, sending as many as 100,000 contagious germs into the air at over 160km per hour. To remain open, we have to accept we cannot stop all of these things from happening, but we can manage the situation better than ever before with technology."
He concluded: "With PPDS Air Quality Sensor on our Philips professional displays, you are able to play an important role, not only for the wellbeing of your workforce, but to society as whole, in providing them with a clean and healthy environment, with the vision and ability to react quickly if conditions deteriorate."