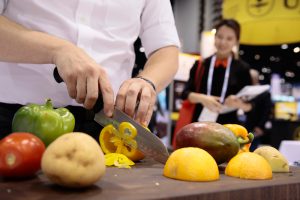 The National Restaurant Association Restaurant, Hotel-Motel Show® is excited to announce the lineup for their centennial Show's World Culinary Showcase. Top chefs will be featured on stage at the National Restaurant Association Show at Chicago's McCormick Place from May 18-21. On the World Culinary Showcase stage, attendees will experience the latest trends, techniques and recipes, fascinating behind-the-scenes stories, and how to rethink cuisine in their own kitchens. Accomplished and celebrated chefs will be in attendance at this year's Show, including Rick Bayless, Gerry Garvin, and Andrew Zimmern, Abe Conlon, Diana Dávila, and Zach Engel.
Each culinary expert will offer something different for Show attendees to experience live. From James Tagg and Anjula Devi, who will be showcasing their international cuisine expertise as chefs for Manchester United Football Club, to Rick Bayless, staying true to his roots highlighting techniques straight from Mexico, to Kari Underly who will be slicing up a 103 beef rib primal to create over 12 unique small batch cuts and Chris Sayegh, who has pioneered the use of cannabis-infused fine dining, there's something for every culinary expert to take back to their kitchen.
The 2019 World Culinary Showcase lineup includes:
Rick Bayless
May 18, 2019
10:30 – 11:30 a.m.
Award-Winning Chef & Author
Since 1987 Bayless has been changing the way America eats Mexican, with four award-winning restaurants in Chicago, two quick-service brands and a retail line of sauces, salsas, and more. Bayless has received a great number of James Beard Award nominations in many categories, and he has won seven: Midwest Chef of the Year, National Chef of the Year, Humanitarian of the Year, Who's Who of American Food and Drink, Best Podcast, plus two for his cookbooks.
Abe Conlon
May 18, 2019
12:00 – 1:00 p.m.
Award-Winning Chef/Co-Owner, Fat Rice
Chef Abe Conlon's bold and vibrant global cuisine is a reflection of his Azorean-Portuguese heritage and travels. Together with business partner Adrienne Lo, Conlon opened Fat Rice in 2012 and two adjoining concepts, The Bakery at Fat Rice and The Ladies' Room, in 2016. He is the co-author of The Adventures of Fat Rice and won the James Beard Foundation's 2018 Best Chef: Great Lakes Award.
Anjula Devi and James Tagg
May 18, 2019
3:30 – 4:30 p.m.
Anjula Devi, Food Writer & Chef, Manchester United F.C.
Utilizing her cookery skills and passion for spices, Devi is best known for creating delicious, authentic Indian cuisine as a consultant chef for Manchester United, arguably the biggest football club in the world. Anjula is the author of Authentic Indian Food and Spice for Life, as well as an accomplished demonstrator and teacher. Anjula's mission is to promote authentic to create wonderful, delicious and nutritious meals.
James Tagg, Executive Head Chef, Manchester United F.C.
Scottish-born Tagg's globe-trotting 35-year career in the industry has seen him working through the kitchen brigade ranks, predominantly working within the contract catering sector with time spent in hotels in the UK, Australia and South Africa. Tagg was appointed as Executive Chef at Manchester United in 2011. Since then he has also established relationships with local colleges in Manchester to develop those looking for a career in the hospitality industry, working with the colleges and Manchester United in apprenticeship programs, mentoring the next generation who are considering joining the industry.
Jason Hammel
May 19, 2019
12:00 – 1:00 p.m.
Executive Chef and Owner, Lula Café
Jason Hammel is the chef of Lula Café in Chicago's historic Logan Square and Marisol Restaurant at the Museum of Contemporary Art. Chef Hammel is the Jean Banchet 2018 Chef of the Year award and a James Beard Best Chef finalist. A twenty-year farm-to-table institution, Lula Cafe has been recognized by Eater's "Essential 38" and the Michelin Guide. Hammel is also a co-founder of the food education group Pilot Light Chefs, which creates innovative culinary curriculum for Chicago Public Schools. Through his work in classrooms and kitchens, Chef Hammel seeks to bring community, creativity, nourishment, and purpose back to the table.
Andrew Zimmern
May 19, 2019
1:30 – 2:30 p.m.
Award-Winning Chef, Author, TV Host & Teacher
A four-time James Beard Award-winning TV personality, chef, writer, and teacher, Andrew Zimmern is regarded as one of the most versatile and knowledgeable in the food world. Zimmern is the host of Bizarre Foods, Driven by Food, The Zimmern List, and Big Food Truck Tip, a contributor writer at Food & Wine, and through the James Beard foundation funds the Zimmern's Second Chances Scholarship.
Gerry Garvin
May 19, 2019
3:30 – 4:30 p.m.
Chef, Author, and Television Host
Acclaimed Chef, Notable Author, Television Host, James Beard Nominee and Philanthropist, Gerry Garvin is most widely known for his television series, Turn Up the Heatwith G. Garvin. He has worked as a chef in restaurants across the country and went on to hosting Road Trip with G Garvinon the Food Network Channel. Garvin is now seen as a judge on Food Network's Guy's Grocery Games as well as Diners, Drive-Ins and Divesas a special guest host. He is America's most down-to-earth chef, and his claim to fame is showing everyday cooks how to keep it simple with a Southern twist.
Abra Berens and Hari Pulapaka
May 20, 2019
10:30 – 11:30 a.m.
Abra Berens, Chef, Former Farmer, Author, Granor Farm
Abra Berens is the chef at Granor Farm in Three Oaks, Michigan. She trained at Ballymaloe in County Cork, Ireland, and Zingerman's Delicatessen in Ann Arbor, Michigan. She strives to connect people with their food both through dinners and progressive food policy—helping to further a food system where farmers earn a living wage, protect our environment through agriculture, and waste as little food as possible.
Hari Pulapaka,Executive Chef and Co-Owner, Cress Restaurant
Hari Pulapaka is an award-winning chef and author with four James Beard Award semifinalist nods as Best Chef-South and multiple Food & Wine People'sBest Chef recognitions. His cuisine helped rate his restaurant, Cress Restaurant, as the top-rated ZAGAT restaurant in Orlando in the inaugural 2013 guide. In 2016, Hari was recognized as a GRIST 50 fixer for his innovative and active work in the area of food waste reduction.
Diana Dávila
May 20, 2019
12:00 – 1:00 p.m.
Chef and Owner, Mi Tocaya Antojería
Chef Diana Dávila is the Chef and Owner of Mi Tocaya Antojería in Chicago's Logan Square neighborhood. A native of the Chicago suburbs, Dávila grew up in kitchens and began working in her parent's taqueria at the age of 10. Dávila was named one of Food & Wine Magazine'sBest New Chefs (2018); a James Beard Semi Finalist for Best Chef: Great Lakes (2018, 2019); a nominee for Jean Banchet's Rising Chef of the Year (2017); Eater Chicago's Chef of the Year (2017); Chicago Tribune's Chef of the Year (2019) and was named a "Chef to Watch" by both Eaterand Plate Magazinein 2017.
Kari Underly
May 20, 2019
3:00 – 4:00 p.m.
Master Butcher and Author
Kari was honored by Provisioner Magazineas one of 25 Future Icons of the Meat and Poultry Industry. She's a third-generation butcher and journeyman meat cutter with a B.S. degree in Business, and mad skills in software design and development tools. She's the author of the James Beard nominated book, The Art of Beef Cutting: A Meat Professional's Guide to Butchering and Merchandising. Her most recent offering is the Range ® Meat Academy certificate program online. Kari was recently a judge on the popular TV show, Chopped. She was proud to be a judge for The American Pig Farmer of the Year in 2016, 2017 and 2018, and a judge for Best Butcher in Texas in 2017.
Zach Engel
May 21, 2019
11:00 a.m. – 12:00 p.m.
Executive Chef and Owner, Galit
Zachary Engel is the Executive Chef and Owner of Middle Eastern restaurant, Galit, which debuted in Chicago's Lincoln Park neighborhood in April 2019. Previously, Zach was the Chef de Cuisine at Shaya Restaurant in New Orleans, where he led a talented team to take home the 2016 James Beard Award for Best New Restaurant, a culminating triumph at the end of a year of many Best New accolades. In 2017, he followed with winning the James Beard Award for Rising Star Chef of the Year.
Chris Sayegh
May 21, 2019
12:30 – 1:15 p.m.
CEO and Head Chef, The Herbal Chef
Chris' company, The Herbal Chef, is a pioneer in using cannabis-infused fine dining to elevate the perception of marijuana in mainstream media. Through dinners that include art, music, fine wine and top-notch ingredients, he simultaneously and effortlessly educates and entertains his audience. Sayegh produces gourmet edibles, THC-infused dinners, as well as catered and private dinners and is the subject of two television shows. Beyond this, The Herbal Chef has become the most well-known cannabis and culinary entity in the world consulting with businesses and governments alike to make sure the future of on-site consumption is safe and enjoyable.
Culinary demonstrations at World Culinary Showcase will run each day of the four-day-long National Restaurant Association Restaurant, Hotel-Motel Show®. Each session will occur in McCormick Place's Lakeside Center – Booth 10357. Register for this year's 100th Anniversary Show.