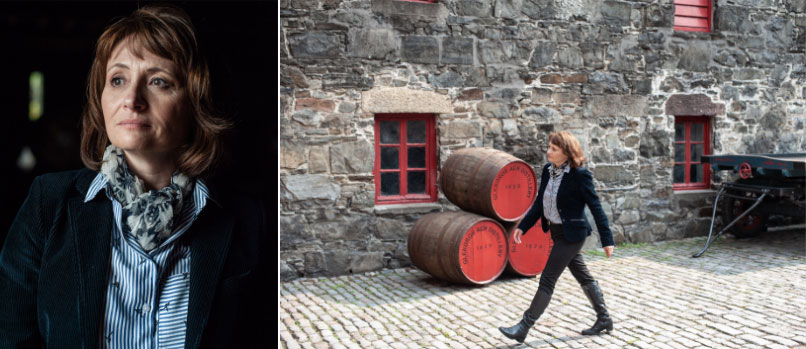 Brown-Forman Corporation announces that Rachel Barrie, Master Blender for its Single Malt Scotch Whisky Distilleries, has been inducted into Whisky Magazine's coveted Hall of Fame. Barrie creates some of the world's finest single malts for BenRiach, The GlenDronach and Glenglassaugh. She is one of only a handful of female Master Blenders, the "top job" in the whisky industry.
Barrie's expertise and service to the whisky industry for over 26 years was recognized by Whisky Magazine when she was inducted into their Hall of Fame during a formal ceremony on Friday, Dec. 7. The Hall of Fame is the highest accolade Whisky Magazine can bestow and is their permanent tribute honoring individuals who have made a lasting contribution to the whisky world. Earlier this year, Barrie became the first female Master Blender to be given an honorary doctorate by the University of Edinburgh.
"Being inducted into the Whisky Hall of Fame is an absolute privilege," says Barrie. "My ambition has always been to unlock a deeper understanding of the distillation, maturation and provenance of Scotch whisky, to develop and nurture richness of character and taste and celebrate it with the world. It's wonderful to be recognized for this."
"Master Blenders and Distillers are guardians of quality: honoring the legacy and tradition of the past, protecting spirit quality in the present, while innovating and continuously improving for the future," adds Barrie. "The decisions made today provide the foundations for growth that will be built on by the Master Blenders and Distillers that follow. Every day, I am thankful to play my part alongside our talented distillery teams in creating some of the finest whiskies in the world."
Barrie's love of whisky began in her childhood, growing up in rural Aberdeenshire, a county in Scotland, which has one of the highest concentration of distilleries in the world. Barrie studied chemistry at the University of Edinburgh before beginning her career as a research scientist at the Scotch Whisky Research Institute. She has received numerous industry accolades for her work developing award-winning whiskies, in addition to judging international spirits competitions and serving on numerous industry committees.
ABOUT THE BROWN-FORMAN SINGLE MALT SCOTCH WHISKY PORTFOLIO
The Brown-Forman Single Malt Scotch Whisky Portfolio is comprised of three of Scotland's most revered distilleries, BenRiach, The GlenDronach and Glenglassaugh. Located in Speyside, BenRiach is respected as one of the country's most innovative and experimental distilleries. What sets it apart is its use of both peated and unpeated malted barley and its innovative range of cask finishes. It is also one of the only Speyside distilleries with operational floor maltings used for select expressions. Located in the Scottish Highlands, The GlenDronach is renowned as sherry cask connoisseurs. Their rich and robust spirits, which are made using hallowed traditional methods, have been enjoyed since 1826. Standing on the Moray Firth coast, Glenglassaugh borders the Speyside and Highland regions and sits alongside a beach at Sandend Bay. It is the only distillery in Scotland to enjoy this triple geographical diversity, which its unique whiskies capture.