J. Rieger & Co. has announced the 2019 winner of the annual "A Day with the Master" Gin Competition. Bartender Michael Buonocore (formerly of Death & Co. in Denver) won the competition with his unrivaled skill, passion, and expertise in the gin category.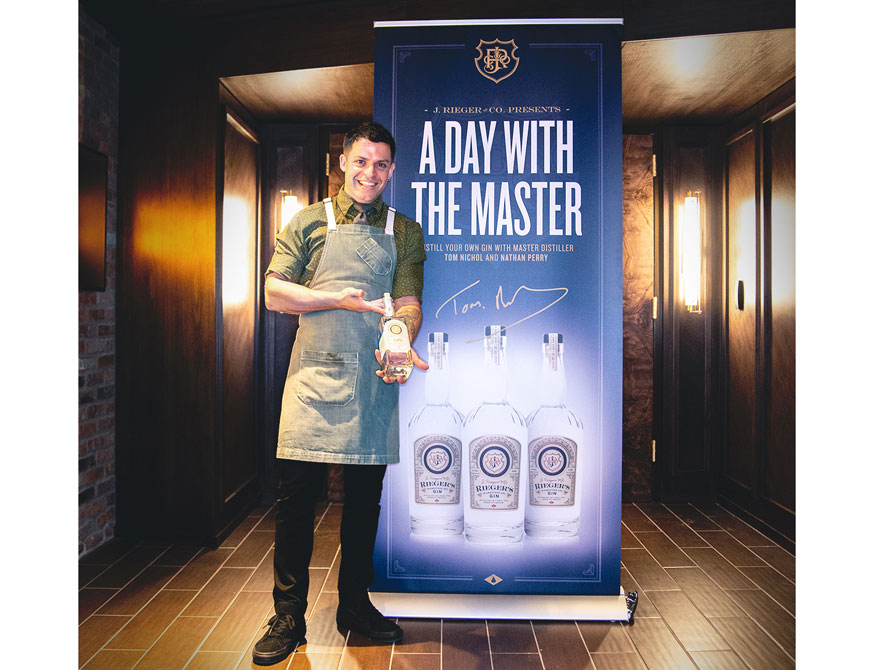 As the Grand Prize winner, he worked directly with Master Distiller Tom Nichol and Head Distiller Nathan Perry of J. Rieger & Co. to create a one-of-a-kind, namesake gin release. Available in limited quantities in Denver, Los Angeles, New York, and at the J. Rieger & Co. distillery in Kansas City this spring, "Masters Series" Gin is a Navy Strength Gin with essences of pink peppercorn, cinnamon and cardamom. The suggested retail price of Michael's "Master Series" Gin is $33/750-ml. Only 400 bottles are available.
J. Rieger & Co. has also just launched their 2020 "A Day with the Master" Gin Competition, an open call to bartenders to showcase their mastery of cocktails using Rieger's Midwestern Dry Gin. Bartenders are invited to submit an original cocktail to "A Day with the Master" for a once-in-a-lifetime opportunity to distill with industry legend, Master Distiller Tom Nichol. Nichol spent 20 years as the Master Distiller of Tanqueray, where he created of Tanqueray No. TEN, the most awarded gin in history. Following his retirement in 2015, Nichol joined forces with Nathan Perry, Head Distiller of the Kansas City-based spirits purveyor, to produce Rieger's Midwestern Dry Gin. Rieger's Gin is a simple, straightforward combination of only five botanicals, resulting in an impeccably balanced and wonderfully complex gin that lends itself beautifully to classic cocktails.
A Day with the Master – Gin Cocktail Challenge
Bartenders must submit one original cocktail (photo and recipe) designed to highlight the attributes of Rieger's Midwestern Dry Gin. Click here for guidelines, rules and more information on the competition. Entries are accepted from March 1 – April 30, 2020.
A total of five bartenders will be selected from the online submissions and will compete at the final event in Kansas City, MO. The ultimate winner will distill their own custom-designed batch of gin with Master Distiller Tom Nichol and Nathan Perry at the J. Rieger & Co. distillery. That Gin will be bottled, packaged and released as a part of the annual "Rieger's 'Masters Series' Gin."