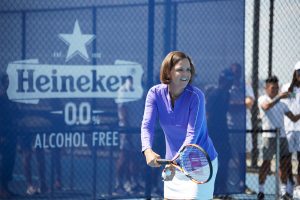 As the official sponsor of the U.S. Open, Heineken tapped former tennis stars Andy Roddick and Lindsey Davenport to give consumers the perfect serve—on and off the court.
Fans were invited to the Hudson River Park Tennis courts to try to return a serve from one of our all-star athletes and, if they could, were rewarded with a pair of tickets to the U.S. Open, taking place this week in New York City.
But even if fans couldn't return the first (tennis) serve, everyone got to enjoy a perfect serve of Heineken 0.0, which was introduced to the US market earlier this year. The great taste and zero alcohol of Heineken 0.0 means #NowYouCan enjoy the perfect serve wherever you're watching the U.S. Open.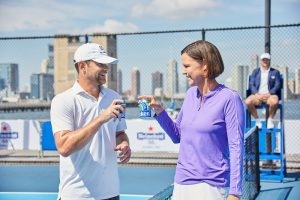 And for fans attending the U.S. Open at Seaport, The Red Star Patio Café (formerly the Red Star Café) returned for another year with a fresh new look. Open August 19 through September 8 outside the U.S. Open Club, the café was open to all ticket holders for lunch, dinner, or after matches. Starting on August 26, Heineken hosted live DJ sets and a photo experience to add some extra excitement. Heineken 0.0 was available for purchase along with other Heineken draught and can offerings. Heineken also sampled 0.0 during Labor Day Weekend.