Fresh Victor, a line of fresh, cold-pressed juice-based mixers for making craft cocktails and mocktails, announces its first-ever virtual cocktail competition, "Winter Cocktails? No ProbLlama!" Brand mascot Victor the Llama is asking home bartenders 21 years and older to create an easy, visually-stunning seasonal cocktail using one or more of Fresh Victor's seven flavors. The contest runs from September 22 through October 22.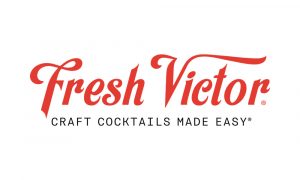 "After years of participating in, creating, and judging cocktail competitions around the world, I wanted to bring that thrill of competition, creativity, and accomplishment to our Fresh Victor fans and allow them to engage in a competition that is easy and rewarding to be a part of," says Chief Mixology Officer H. Joseph Ehrmann. "All they need to do is get creative on a wintery Fresh Victor cocktail recipe (by their own interpretation), take a good photo, and post it with the recipe. No ProbLlama!"
After registering online, contestants will post a photo of their cocktail on Instagram, along with the full recipe and hashtag #FVNoProbLlama to enter. The more creative, the better: hot, cold, up, over, in a coupe or steaming in a mug, whatever it is, it's No ProbLlama! Click here for full entry details and to register.
Judges include H. Joseph Ehrmann (Fresh Victor's Chief Mixology Officer and owner of Elixir in San Francisco, @cocktailambassadors), Dan Dunn (Host of the popular podcast "What We're Drinking", @theimbiber, @wwd_podcast), and Natalie Migliarini (@BeautifulBooze
and author of cocktail book "Beautiful Booze").
The Grand Prize Victor will be announced via social media on November 12 and will receive a package of prizes to stock their ideal home bar, including Fresh Victor mixers, a complete bar tool kit from The Modern Mixologist, glassware and ice trays from Cocktail Kingdom, bitters from Bittered Sling, garnishes from DEHY, and various carbonated mixers from Q
Mixers. Second and third place Victors will also receive prizes. Additional Victors (with prizes) will be announced for "Best Garnish Game," "Best Photo," and "Best Spin on
a Classic."