Bodega & Co., Honey Grail, Infuse Spirits, and Mancan Wine won ECRM's Grand Tasting Awards during ECRM's Global Wine, Beer & Spirits EPPS held in Anaheim, California last month. The winners were selected by attendees of the session, who sampled products from more than 80 suppliers during the Grand Tasting event, and then cast their votes for their favorite for each of four categories: Wine, Beer, Spirits, and Innovation. Following are the winners from each.
Wine: Bodega & Co.
Bodega & Company is a subsidiary in the US of Zamora Company, a Spanish family-owned company that produces and sells wines and spirits with a high added value and a focus on customer satisfaction. With distribution in over 80 countries, it includes brands such as Licor 43, Ramon Bilbao wines, and Villa Massa Limoncello.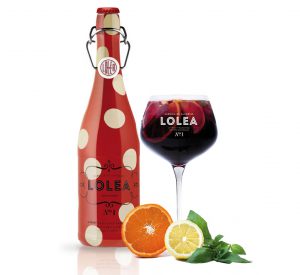 Its Sangria Lolea is a Spanish brand of premium and frizzante sangrias and wine cocktails that bring tradition and heritage for a combination of wine and fruit with "a touch of fizziness," according to the company. It offers a collection of premium sangrias, ranging from the traditional red and white wine sangria recipes to a Rosé wine sangria. It also offers limited editions such as the dry white wine concoction and a recent addition of a sangria made of a single varietal organic Garnacha.
Beer: Honey Grail's Buccaneers' Bounty Honey Rum Cider Grog
Honey Grail creates historically inspired, honey-sweetened, gluten-free adult beverages, including a sparkling honey mead, a citrus Chardonnay honey mimosa, and a honey rum cider grog. It seeks to add effervescence and innovation to age-old, often forgotten classic drinks, and its slogan, "History Never Tasted So Sweet!" highlights the colorfully illustrated historical figures that adorn each product.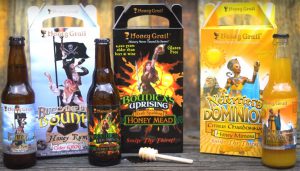 Honey Grail's Buccaneers' Bounty: Honey Rum Cider Grog was inspired by the female pirates Anne Bonny and Mary Read, who became the first and only women captured, tried, and convicted of piracy in the Caribbean during the Age of Sail. On long sea voyages, stored drinking water, beer, and cider stagnates. In 1740, Admiral Edward Vernon ordered that rum be added to mask off-flavors and lengthen the shelf life of liquid rations. Grog, as it was known, became a staple of the British Royal Navy and popular among privateers and pirates alike. Honey Grail re-invents this maritime beverage by combining hard apple cider, rum essence, and a bit of honey.
Spirits: Infuse Spirits' Heresy Rye

Infuse Spirits, which refers to itself as an "infusery" rather than a distillery, creates single-bottle infused Vodkas that are completely done by hand and are all natural, shelf stable, and have an indefinite shelf life.  In addition, they have no added sugar, artificial color, flavors, or chemicals, with an average retail of just $19.99 per bottle. Infuse also infuses whiskeys that are unique twists on brown spirit infusions, as well as a line of bitters that are all done by hand with real roots and spices.
The company's Heresy Rye whiskey is aged in charred French oak to give a woody body to the spirit, while ex-bourbon staves—still wet from their previous tenant—and sherry cask staves all join forces to create a balanced and smooth taste and finish. The Mash Bill is 95% Rye, 5% Malted Barley. The Wood Infusion Bill is 40% Ex-Bourbon Barrels, 40% medium charred French oak, and 20% oloroso sherry cask.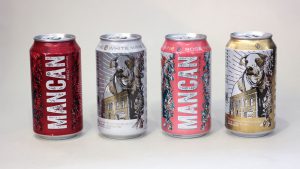 Innovation: Mancan Wine Blends 
Mancan Wine came to market in the fall of 2015 and has since secured distribution in 17 states and placement in over 1,200 retail accounts, including Whole Foods Market and Total Wine & More.
The company offers its product in four blends; Red, White, Fizz, and Rosé, each of which is crafted from high-quality California grapes.