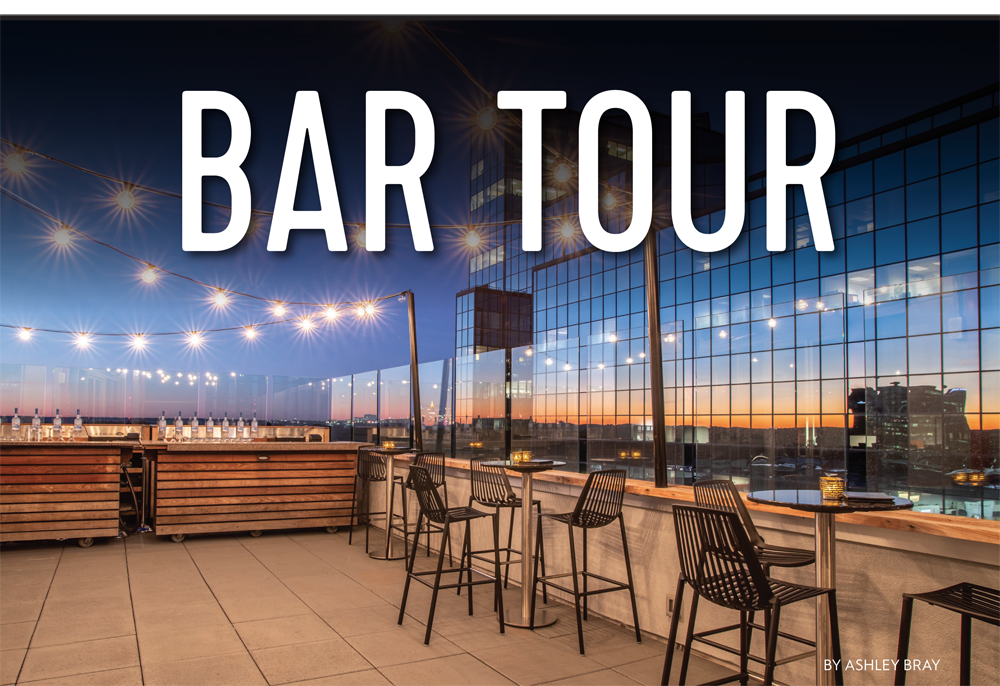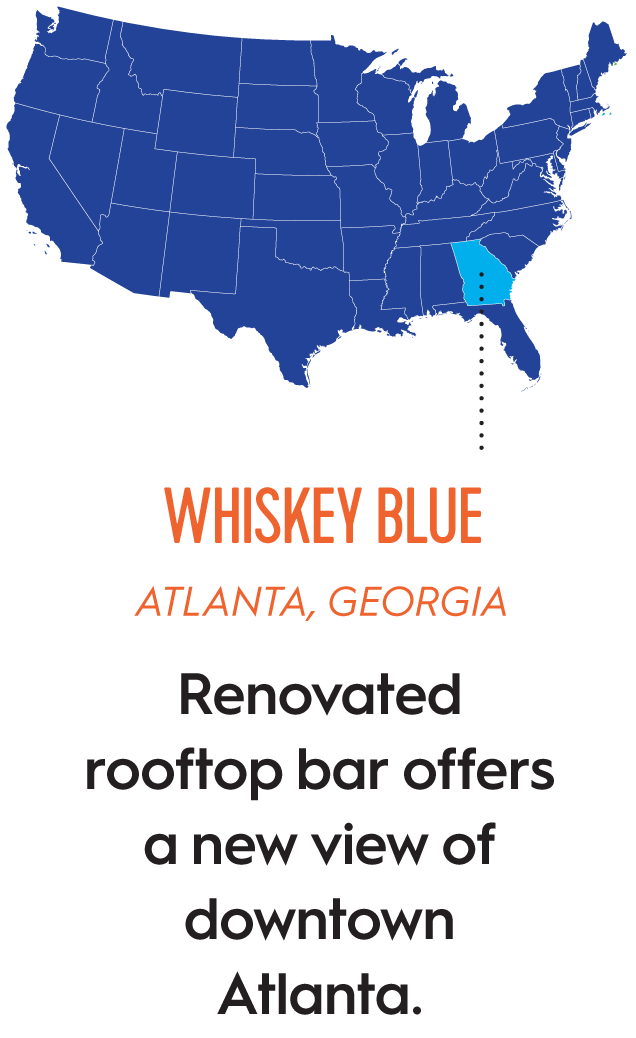 A
fter a full renovation, you could say Whiskey Blue is on top of the world—or at least Atlanta. Guests enjoy a ride up to the rooftop bar in an all-glass elevator that ascends 125 feet high above the city's skyline. Once they arrive, they can choose to gaze out over the city from two outdoor patios, which feature views of Buckhead and Lenox Square on one side and Midtown on the other.
The spectacular views are certainly one of the things that has drawn guests to Whiskey Blue over the last ten years, but a focus on top-notch service has kept them coming back. "We look to stand out now based on our staff and the hospitality of our staff," says Scott Gerber, Principal & CEO of the Gerber Group, which owns Whiskey Blue. "We really rely on our staff to be hospitable, to make you feel good, to remember your name if you come back, and make sure you have a great time."
Now guests will have another reason to come back—the bar recently completed a top-to-bottom renovation in November 2018. "We are truly excited to present a newly renovated Whiskey Blue to the city of Atlanta," said Gerber. "Our entire team has been working hard to ensure that every detail is perfect, and we cannot wait for those who have grown to love Whiskey Blue over the past ten years to experience the new design."
There were a few catalysts for the renovation, including inevitable wear and tear. "We've been around for 10 years, we've had a very, very successful business, and it needed a renovation anyway," explains Gerber.
---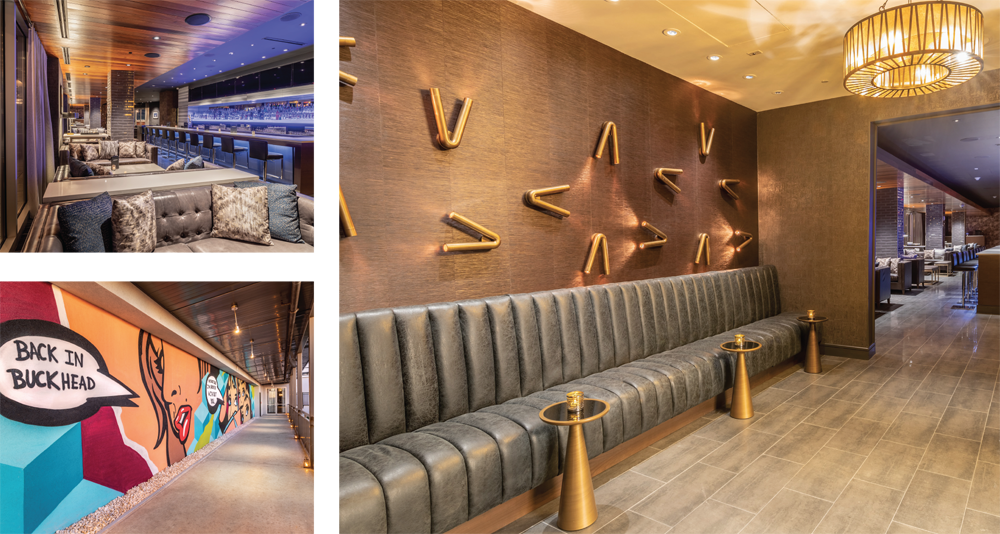 Whiskey Blue was also motivated to update its venue after the hotel it is in was sold and underwent a complete renovation. The W Atlanta – Buckhead, which is owned by Woodbine Development Corporation, now features an all-new lobby, guest rooms, and ballrooms. "When they decided to renovate the entire hotel, we had an opportunity to participate, and we didn't want to get left behind, so we did an entire gut renovation," says Gerber.
A renovation of this size requires a lot of planning, and Whiskey Blue spent nearly a year preparing for the project. All-new furniture was fabricated and placed in a warehouse, and any long-lead items were ordered before the renovation started so that the team wasn't waiting around for anything. To complete the renovation, Whiskey Blue had to close, so time was of the essence on this project, which took seven weeks to complete once the renovation began.
During the time the bar was closed, existing staff members were compensated. "We were really fortunate that we have an incredible staff, and we were able to compensate them to take some time off over the seven weeks and still have them be able to survive," says Gerber. "Everybody except for one person came back and is super excited to be there."
The renovation included a complete overhaul of the space, its fixtures, and the furniture. "If you were there previously, and you went back, it still looks similar in that the bar is in the same location and you have two big terraces, but everything else was completely renovated: floors, bartop, ceiling, walls, sound system, everything," explains Gerber.
The color scheme also changed from predominantly brown to more grays and blues, including sleek, gray subway tile and gray leather couches perfect for lounging. A few saddle-colored couches break up the grays and blues. The outdoor patios offer vibrant blue sectional seating areas. The color scheme is meant to be a soothing backdrop to the beautiful space and views while offering great aesthetic appeal. "Those color tones, along with the lighting, just make people look good," says Gerber.
That's not to say the bar doesn't offer eye-catching and unique photo-op spaces. Take the Instagram-worthy 66-foot-long mural from local Atlanta artist Chris Veal (pictured below). Whiskey Blue met Chris through their general manager, who previously curated art for another W hotel. The bar was looking to embrace a local artist, and it hired him to create the colorful mural out on the terrace.
Another popular backdrop for that perfect Instagram shot is a new, intricate lighting installation at the front of the bar (pictured below, right).
"One of the things that has changed today versus 10 years ago is Instagram," says Gerber. "So I think having some of those moments where you have interesting places to take photos are always a nice thing that people enjoy."
Whiskey Blue's cocktail menu was also a part of the renovation, and new cocktails include the Buckhead Spritz (Absolut Elyx Vodka, St-Germain Elderflower Liqueur, mint, sparkling wine) and the Pomegranate Sour (Maker's Mark, lime juice, simple syrup, pomegranate molasses, orange bitters).
Whiskey Blue continues to serve up classic cocktails and house favorites that highlight fresh juices and herbs—a hallmark of this rooftop bar. "We've always had fresh ingredients. It's not a new trend for us. Our attitude is if you're putting it in your body, why not put the healthiest, best stuff that you can," says Gerber.
The bar will sometimes add in new cocktails throughout the year, but typically will do a larger change-out of their menu with the seasons. Currently, the menu caters to colder weather. "In the summer, aperol spritzes are huge, but as it gets colder, people want to do something a little bit different. So we put something on called the Autumn Spritz [rosemary-infused Cynar, Barolo Chinato wine, club soda], which is a little bit more wintery," says Gerber.
For other wintery options, the bar also offers a Cold Brew Martini with Kahlúa, coffee demerara, cold brew coffee, and Stoli Vanil Vodka, as well as the Big in Japan cocktail (Suntory Whisky Toki, Dolin Rouge Vermouth, Solera 1841, mole bitters, bourbon-soaked cherries), a riff on a Manhattan that's done with Japanese whiskey.
Whiskey Blue also offers signature small bites in conjunction with the hotel. "Whenever we can, it's locally sourced," says Gerber. "And because it's in the south, we always have our pimento cheese and toast."
Other bites include a grilled market vegetable flatbread, crispy duck tacos, angus beef sliders, and an artisan cheese and local charcuterie board.
One of the unique parts of their menu that went unchanged is the cigars section. The three different cigar selections often appeal to those with a reason to celebrate something special out on Whiskey Blue's outdoor terraces. "We limit it to an area so it's not bothering anybody else," explains Gerber.
Overall, the renovation has been well received by Whiskey Blue's customers—both new and returning. "We're really excited," says Gerber. "So far the reaction has been very, very positive. We're really pleased with the way things came up, and we're hoping to do better than we did even the first 10 years and have another really strong 10 years going forward."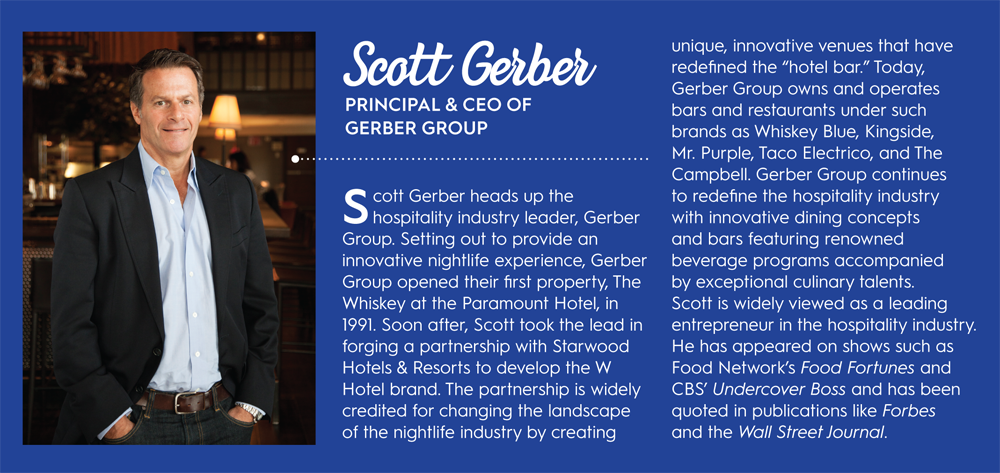 ---
Want to stay up to date between issues? Subscribe to our newsletter.