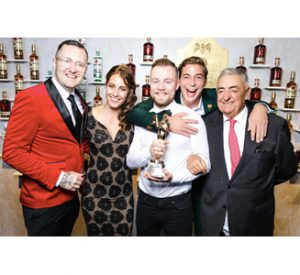 Forty-two of the world's finest bartenders will gather in Amsterdam in May 2019 to compete for victory in the annual BACARDÍ® Legacy Cocktail Competition. The prestigious competition will be held in the home city of its current champion, Erik van Beek, and will host the highest number of participating countries in its history.
BACARDÍ Legacy challenges exceptional bartenders to write their own chapter in the world's most awarded rum's extraordinary and enduring history. They must create a new cocktail that is worthy of inclusion in this legacy – to be honored alongside classics like the Original BACARDÍ Mojito, the Original BACARDÍ Daiquirí and the BACARDÍ Old Cuban. Upon entering its 11th year, the competition will now introduce its newly released premium BACARDÍ Añejo Cuatro rum as one of the key ingredients bartenders may use to create their 'Legacy' cocktail in the competition.
Grand Final City Announcement To Come
The much anticipated announcement of next year's Grand Final city was made live today on the BACARDÍ Legacy Facebook page from New Orleans' 'Preservation Hall,' where BACARDÍ hosted a party to celebrate 'International Daiquiri Day.' Erik van Beek, who is visiting Tales of the Cocktail with BACARDÍ as part of his winning prize, took the mic along with Dickie Cullimore, Global Ambassador for BACARDÍ rum, to proudly declare that the 2019 global finals would take place in his home city.
"We can't wait to bring the BACARDÍ Legacy to Amsterdam next year," said Cullimore. "It is a perfect opportunity to celebrate and showcase a city that has a well established reputation as a destination for nightlife, but is now fast becoming one of Europe's shining stars for cocktail culture and bartending. I am particularly looking forward to seeing how our entrants this year will use the new BACARDÍ Añejo Cuatro rum, which is aged under the Caribbean sun and brings a subtle new flavor profile to our portfolio for Legacy; I'm sure it will bring forth some interesting and delicious new 'Legacy' drinks next year."
Past Bacardi Legacy Cocktail Competition Winners  
Winning the BACARDÍ Legacy Cocktail Competition represents a life-changing achievement for a bartender, with past winners including Ago Perrone (London's Connaught Bar) and Shingo Gokan (2017 Spirited Awards 'International Bartender of the Year'). 2018's winner Erik van Beek, who works at Bar TwentySeven in Amsterdam, will serve his winning cocktail Cariño at some of the finest bars in the world. BACARDÍ is now working with Erik to provide him with bespoke career development over the next year that will include travel to the United States and Asia, as well as a place on the judging panel at the final in Amsterdam.
The competition was founded in 2008 to support and celebrate extraordinary bartending talent by giving participants the opportunity to create a cocktail that will stand the test of time, become their signature drink and go on to have a lasting legacy.
How The Finalists Are Chosen
The finalists will be selected following a series of national competitions held throughout the year. They will enjoy two days of training, development and camaraderie with BACARDÍ brand ambassadors and key industry experts in Amsterdam, before presenting their drink in the competition. A panel representing some of the most influential experts of the international bartending and spirits community will judge the final.