A scheme to maximize the use of local raw, materials – created by Diana Figueroa and David Roque from Cuba – has been announced as the winning concept at Altos Tequila's second annual The Tahona Society Collective Spirit competition, which took place in Mexico from 15th-20th November.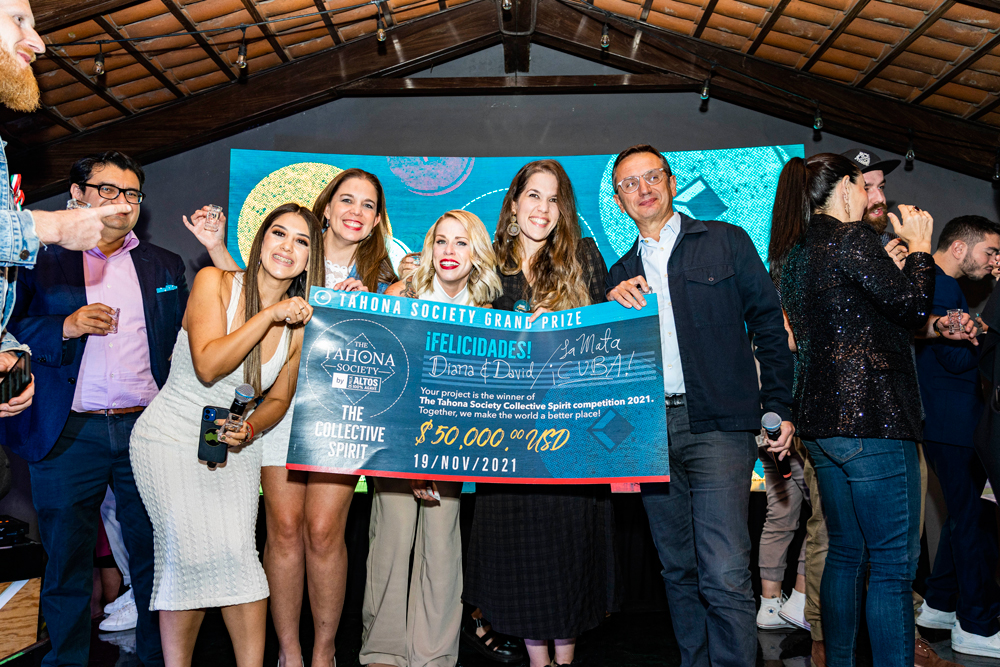 The pioneering sustainability-centric competition challenged 14 bartender finalists from across the globe to present their initiatives – conceived to benefit staff, customers, the bartending community and/or the environment – in a bid to win a $50,000 USD grant to bring the concept to life.
Figueroa and Roque's winning project, "La Mata", is focused on the creation of a line of mixers and craft products for the cocktail industry, which uses a scientific and sustainable approach.
The duo, who own Jibaro bar and restaurant in Havana, Cuba, began producing their own handcrafted products and mixers – including cordials, kombuchas, sodas and liquors – using all-natural, locally-grown Cuban produce in 2017, when they spotted a gap in their own menu. The products soon became popular with fellow bartenders and entrepreneurs, presenting a fantastic business opportunity. Since then, Figueroa and Roque have worked to develop exciting new lines and flavors using native fruits, such as Java Plum, as well as different herbs and spices.
Using the Altos Tahona Society Collective Spirit grant, Figueroa and Roque will be investing in equipment, supplies and raw materials in order to escalate production. The sustainable production line – which will use 100% recycled bottles only – will also serve to support the local community by opening up a range of new job positions. Alongside this, the team will look to build a small education center that will allow bartenders and the community to learn about the best way to utilize the products, as well as sustainable industry practices which they can adopt.
The judging panel was particularly impressed by the team's strong focus on waste reduction, one of the four different Collective Spirit categories assessed in the contest along with bartender welfare, social engagement, upcycling and recycling and sustaining the environment.
Diana Figueroa commented: "We were proud to represent Cuba for the first time in this prestigious competition and are incredibly grateful to The Tahona Society for this life-changing opportunity. Our winning initiative, "La Mata", will help support our local community, while limiting waste reduction and environmental impact by showcasing how to maximize raw local materials. We can't wait to begin rolling it out in Cuba and we hope its success will lead to expansion in the coming years – watch this space!".
To assist their preparation for the final round of presentations, finalists received specialized one-to-one Tequila training and hands-on workshops from business and marketing experts such as; Michael Merolli, CEO of House of Tequila – Pernod Ricard; Kirén Miret, Executive Producer of Mexico and Colombia´s Shark Tank reality television series and Dré Masso, co-founder of Altos Tequila, amongst others.
Dré Masso, Altos Tequila and The Tahona Society Co-Founder, said: "It's no secret that sustainability is more important than ever before on a global scale. So, it's inspiring to see our community of bartenders becoming increasingly socially and environmentally conscious and really considering the impact of their bar practices. Figueroa and Roque's "La Mata" project resonates with Altos' deep-rooted respect for the environment and support for the local community, and we can't wait to see the positive effects of the scheme come into play."
Carlos Andrés Ramírez, Global Advocacy Manager at Pernod Ricard House of Tequila, added: "At Altos Tequila, we have pioneered bartender education and sustainable practices through The Tahona Society and we're extremely proud of the number of high-quality entries we received for this year's Collective Spirit competition – the first competition for sustainable bartending projects. In the end, only one team could win and "La Mata" clearly demonstrated a link to the qualities outlined in Altos' We Care manifesto. Congratulations to Diana and David! We look forward to continuing to support this business venture and helping the team expand outside of Cuba."