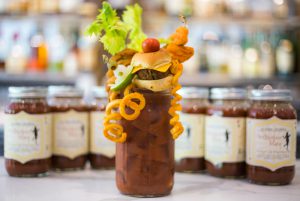 Imagine bringing your best piece of clothing to a new dry cleaner. When you pick it up, it looks pristine! It smells fresh, it's stuffed with tissue paper, and covered in plastic. But the next time you pick up your favorite frock from the cleaners, it's rolled up in a ball in the bottom of an old plastic grocery store bag and smells like smoke. Now I ask you, would you ever go to that cleaners again? Never! Why? Because the experience had zero consistency.
This is exactly how a customer feels when they go to an establishment and have "the best drink" they've ever tasted, but upon their return, receive a cocktail that can't hold a candle to the first one. Do you think that customer will come back a third time and roll the dice on a $14 cocktail that may or may not be a fulfilling experience? Nope. You just lost a customer.
So how can you ensure that your customers are experiencing consistency every time they visit? High-end mixers!
There are a ton of companies that do all the hard work for you by mixing beautifully crafted syrups, purees and mixes. Arm your bar staff with nothing more then a jigger, and they will be able to produce not only a consistent drink, but a memorable one too!
The wildly popular yet simple dirty martini can be elevated to the next level with the right ingredients. It's so tempting to use the juice from the olive jar, but if you can't always get the same olives from your purveyor, the brine will taste different. The biggest problem is there's a finite amount of juice in each jar, and you may just run out!
This is exactly what kept happening to Eric Tecosky, a mixologist at LA's iconic Jones Hollywood. So he did something about it—he developed the best tasting olive juice I've ever had!
From the humble beginnings of his Los Angeles apartment, and after lots of research and experimentation, his delicious olive juice and blue cheese stuffed olives are being carried at every P.F. Chang's location nationally.
"Dirty Sue Premium Olive Juice is made with grade-A Spanish green olives, which produces a more viscous brine and features an olive-forward flavor with a salty kick and fruity finish," says Tecosky. "This is a stark contrast to the lower-grade brine used primarily to keep most cocktail olives from drying out."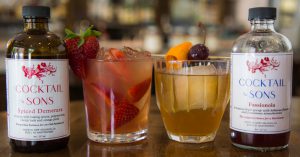 This high-end olive juice also solves the problem of cleanliness. "Ever seen a bartender reach his hands into an olive jar to refill his olive tray?" asks Tecosky. "By using Dirty Sue, customers are guaranteed the 'cleanest' dirty martini they've ever enjoyed."
We are in the age of craft cocktails, and customers are keen to try new twists on old standards. The easiest way to do this is with a great product like Cocktail & Sons Spiced Demerara Syrup (demerara is a fancy name for sugar in the raw). Add this to bourbon with a few dashes of bitters, and an Old Fashioned will be swirling with flavors of white peppercorn, sichuan peppercorn, coriander, all spice, cassia bark, birch leaf, and wild cherry bark with a kiss of orange peels—with no more effort than just measuring out half a shot!
I was also able to try the Fassionola Syrup, which unfortunately is a limited edition. But fear not! They offer a range of unique, intriguing flavors like Honeysuckle Peppercorn, Mint Verbena, Toasted Cardamom, and Ginger Oleo Saccharum.
Cocktail & Sons' all-natural syrups are created in New Orleans by Max Messier, an award-winning bartender and spirits consultant, and his wife Lauren Myerscough. Their products are wonderful for heightening any bar to a craft cocktail level and are user friendly enough for a home-mixology enthusiast.
I had never met a pre-packaged Bloody Mary mix that I didn't doctor up—that is, until my first sip of The Hoboken Mary Mix. I was immediately smitten by the adorable canning jar packaging and the fact that it's all-natural. It's also gluten free and low sodium (less sodium means less bloating and more room in your belly to order another drink. ChaChing!).
I tried it the traditional way with vodka, then with a mix of tequila and mezcal, which blew the culinary experience to another stratosphere! But there's more, La Isla, an old-school Cuban restaurant in Hoboken, uses it to make their ceviche! I tried it, and it is amazing. Next stop, Hoboken Bloody Mary oyster shooters, also fantastic. Add one superior product, and your establishment has the ability to offer three very cool and consistent options.
Fresh fruit elevates the level of any drink, but it can be very costly to keep it behind the bar or use it for large batched drinks. Fear not! I have found a company that makes such great alternatives to fresh fruit that, at times, I actually prefer using them to the real deal.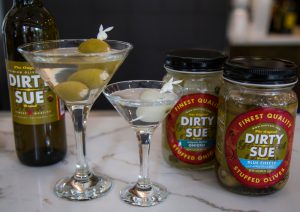 The Bevolution Group has their eye on two important things: the quality of their products and the profitability of your business. This is a huge, one-stop shop for any beverage mix, and they carry everything from juices to cocktail mixers to cream of coconut and even coffee frappes! They are proud to say they don't use any artificial colors or corn syrup. If you're a small mom and pop or a huge hotel chain, they can accommodate you.
"Our products are shelf-stable, hand-mixed, made of fortified juices, and can even be ordered in counter top dispensers," says Toby Campbell, Director of Marketing at Bevolution Group. "The cocktail mixes are a three-to-one ratio for ultimate cost control."
As a former drink slinger, I implore you to eliminate the guesswork. Give your customers something they know they can count on the same way time and time again. Consistency. The name of the money game!
By Rachael Robbins, who owns the cocktail consulting company Chickologist. She's tended bar in NYC, Miami, LA, & NJ for 20 years. She opened a speakeasy in Jersey City and began creating innovative cocktails. She is the in-house Mixologist for VDKA 6100. Reach her
at chickologist.com or @chickologist. Find Chris Capaci at @capacityimages or capacityimages.com.
Photos: Chris Capaci at La Isla.