Hoshizaki is thrilled to announce the launch of the Sphere Undercounter Ice Machine. Now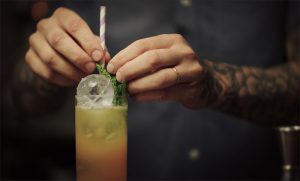 bar owners, restaurants and hotels can have clean, clear 1.8-inch diameter ice balls for amazing cocktail presentations with minimal dilution – and without the mess of ice molds or the high price of third-party ice vendors.
Ice is always an important part of the preparation and presentation of a cocktail – consider a whiskey pour over a single sphere in an old-fashioned glass. Sphere ice looks beautiful, is more sanitary and is more profitable than any other option in the market today.
The only machine on the market to make 1.8 inch diameter sphere ice
Spheres are clear and solid, with less surface area than a square which gives them superior chilling ability
Small footprint can easily fit under bar or counter
More sanitary than ice molds
Less costly than third party ice vendors
Makes up to 50 pounds (500 spheres) of ice production per 24 hours
Each Sphere Ice Machine includes:
Built-in storage bin with 36 lb. capacity (360 spheres)
Durable stainless steel exterior
Easy to clean air filter
Foam injected polyurethane for insulation (HFC free)
Closed water circuit offers the ultimate contamination protection
Ice scoop included
How is it Made?
A nozzle injects water into the sphere ice forming chamber of the evaporator making 15 Spheres at a time. Each with its own spherical chamber formed by upper and lower half-domes that come together to form the Sphere using a nozzle that injects water from the bottom up into the evaporator chamber until the sphere has been fully formed.
The new Sphere Undercounter Ice Machine also includes a three year Parts & Labor Warranty on the entire machine. A five year Parts warranty is also included on the compressor and air-cooled condenser coil.
For more information, call 800/438-6087 or visit hoshizakiamerica.com.
Photos courtesy of Hoshizaki America.