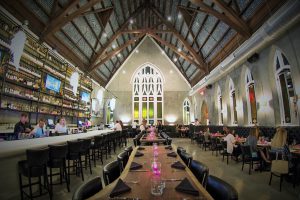 Since 5Church Charleston opened in November 2015, the restaurant has carved out a successful niche for itself in the popular Market Street area, which is no easy feat in a market as difficult as Charleston.
"There are certainly easier markets to break into than Charleston," says 5Church Owner/Operator Patrick Whalen. "I think we're ambitious and we wanted to put ourselves in that kind of arena. We love being here."
5Church also has sister locations in Atlanta and Charlotte, but the restaurant isn't a chain. "We don't want to be a chain," says Whalen. "Charleston is adverse to chain restaurants. What they want is organic, locally owned, locally operated businesses."
Chain restaurants are known for their homogeneity and consistency, which isn't a fit in a city like Charleston. In fact, while many things have combined to contribute to 5Church Charleston's success, Whalen points to the restaurant's willingness to adapt as
a major factor. "For a market like Charleston, which is so heavily weighted toward craft, to try and basically force a fixed business model onto a population of people that have other options, I think, is a failing proposition," he says. "We have been very adaptive here, much more so than we had to be in Charlotte, at least initially, or even Atlanta, to make sure that our model was going to work.
"We had to reprogram our business model, our food, service, everything."
Their goal with the food and drink at 5Church Charleston was to create something that was surprising while still being approachable. Although distinctive options like crab ravioli and a lamb burger pepper the menu, there are plenty of familiar steak, chicken, and fish options.
"We want to make food that people understand. They read it on the menu, and they understand generally what they're getting," says Whalen. "And then we surprise them with the depth of flavor and ingredients, and also frankly, the value." Whalen says offering a steak or protein for 10-30% less than competing locations is part of their business model.
The goal with the cocktail menu is much the same, which is not surprising considering 5Church prides itself on eliminating divisions between the kitchen and bar.
"We definitely do craft cocktails, but we never wanted it to be too much where people feel like they need an encyclopedia to understand the cocktail menu," says Bar Manager Patricia Smith. "That's been our goal since day one—to make drinks that are really high quality but also just really approachable and fun for our guests."
The drinks menu also boasts an extensive wine list, and Smith is the perfect curator for it as she's currently working on becoming a professional certified sommelier.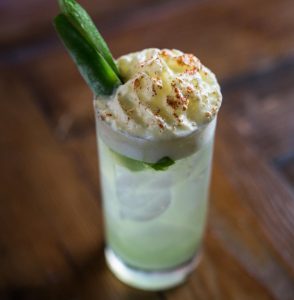 "My life revolves around beverage," she says. "This was the industry I was meant to be in, and I wanted to find a way to make it my career."
Smith originally went to school for biology and genetics before realizing that the hospitality industry was her true calling. She accredits her quick success in the field of wine to her science background. Her goal is to share her education with patrons and staff. "I want to teach our staff to have them be as excited about wine, cocktails, and our bar program as I am," she says. "For me, that's what's next. Instilling the passion that I have about our beverage program into every single one of our staff members."
And passion is something 5Church has in spades. "We're always trying to be inspired," says Whalen. "Every day when we come into work we ask, how can we innovate and do something different?"
It's easy to be inspired when your backdrop is a 100-year-old church. The church on North Market Street was desanctified in the late 60s and has served up food instead of prayers
ever since. Before 5Church moved in, a sports bar had occupied the space for ten years.
The decision to move on the church wasn't a moment of immediate divine inspiration—the partners considered it for almost a year because the space needed so much work. "It was a pretty audacious project, and we were a little nervous," explains Whalen. "It's an old building, and old buildings come with lots of problems. So it took some convincing before we finally decided to move on it just because it was such an extraordinary property."
An extraordinary renovation followed, and what was projected to be a 40-50% gut, actually turned out to be closer to 80-90%. Almost the entire infrastructure—gas, plumbing, electricity, HVAC, the kitchen, etc.—had to be ripped out and replaced.
At the same time, 5Church focused on retaining as much of the original beauty of the church as possible. They were able to save about 60% of the original floorboards and 90%
of the stained glass.
"I remember walking around this restaurant during construction, as our bank account was rapidly depleting and we were pulling our hair out, but looking at it and being so convinced it was worth it," says Whalen. "It's a very validating feeling to finish the work
and see how people respond when they walk in the restaurant."
When the renovation was done, 5Church got to work on decorating and outfitting the space. Certain design elements are carried across all 5Church stores and then tailored to
the individual city the restaurant is in. For the Charleston location, 5Church wanted to blend new and old. "There's sort of a recurring theme of what people perceive southern restaurants are supposed to look like," says Whalen. "We wanted to play with that perception a little bit and add some pop art, some neo-Victorian touches here and there, and then utilize the artists that are local. We've got two pieces here that were done by a local artist, and then of course, the ceiling, which was the signature piece of the restaurant."
The soaring ceiling may be the focal point of the restaurant's décor, but it almost didn't happen. The original plan was to put in a drop ceiling, but when money ran out, the owners had to go with Plan B, which was to hire a local artist to paint the full text of The Art
of War by Sun Tzu on the ceiling.
This text appears in all 5Church's locations, but you really only need to focus on one quote to understand why: "To expand your territory, you must divide your spoils."
The quote reflects 5Church's business model, which aims to give all employees a chance to move up, grow, and partake in the "spoils." "During our careers, the delineation between ownership and operations was a pretty wide chasm, and there were very few ways to get across it," says Whalen. "What we found happened more often than not was the people that had the operational knowledge would leave, including me.
"So we were going to build a model where we were going to create a pathway for growth, not only by position or by title, but also into ownership."
Whalen is one of four owners in the 5Church group, which also includes Jamie Lynch, Owner/Executive Chef; Ayman Kamel, Owner/Operator; and Alejandro Torio, Owner/Marketing Director. There is always an owner in each 5Church location, and the group lives the restaurant's motto of teamwork: "There is only we."
In fact, when asked about the future, the thing Whalen is focused on most is working with the next 5Church owners.
"I want to know what the next generation of the people running the businesses looks like," he says. "I want to continue to adapt the culture so that more people have a voice in how to make it a success."
By Ashley Bray
All photos: 5Church Group.