Are you looking to spice up your brunch menu? Then look no further than Taffer's Mixologist Bloody Mary Mix, which just got a "hot" and spicy all new makeover.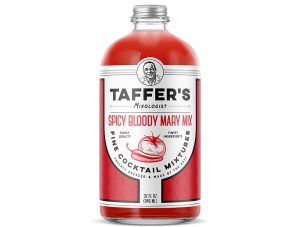 Created by Bar Rescue host and hospitality expert Jon Taffer, the new Spicy Bloody Mary Mix contains only 30 calories per serving and has no preservatives.
The new addition is a spicy twist on Taffer's Mixologist's traditional Bloody Mary Mix, which is made with ingredients that include tomato juice, roasted bell pepper puree, Worcestershire, prepared horseradish, and more.
Taffer's Mixologist's Spicy Bloody Mary Mix is now available in Walmart stores nationwide.
Here's a recipe to add a little spice to brunch at home or to your bar's cocktail menu.
Spicy Bloody Rosemarys
Ingredients:
3.5 oz Taffer's Spicy Bloody Mary Mix
1.5 oz Vodka
3-4 Large sprigs of Rosemary
Directions:
Add all ingredients to a cocktail shaker filled with ice. Shake vigorously. Pour into a glass filled with ice and garnish with more rosemary.