Just when we all needed good news to get us through the final weeks of winter, Skrewball Peanut Butter Whiskey announced its partnership with the experts at Tipsy Scoop liquor-infused ice cream on a limited edition Peanut Butter Chocolate Swirl Whiskey ice cream. This adult take, on two favorite childhood snacks, is created with Tipsy Scoop's signature creamy vanilla ice cream base, Skrewball Peanut Butter Whiskey and a chocolate fudge swirl — satisfying your sweet and spirit tooth.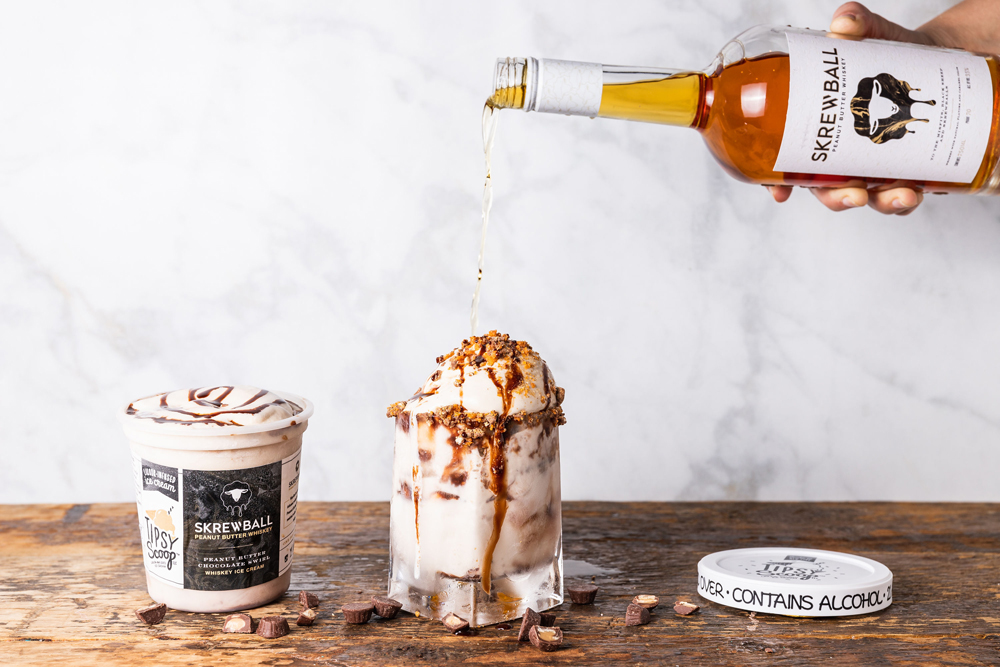 Similar to Tipsy Scoop's additional boozy flavors, this new seasonal collaboration weighs in at up to 5% ABV and is only available to those 21+. While delicious straight from the pint, the flavor is also perfect in a dessert cocktail topped with Skrewball Whiskey or as an "on the rocks" cocktail with boozy ice cream instead of ice. Alternatively, the tasty treat can be made into a boozy milkshake by blending a few scoops with chocolate and an extra shot of Skrewball Whiskey. The possibilities are endlessly delicious.
The limited-edition Peanut Butter Chocolate Swirl Whiskey ice cream is available in four-pint packs for overnight nationwide shipping at TipsyScoop.com and by the pint at Tipsy Scoop locations while supplies last. Ship pints to friends for a virtual ice cream social, or pick up from a Tipsy Scoop Barlour, located at 217 East 26th Street and 270 Metropolitan Ave in New York City.