Setting an adventurous new standard in taste for the low and no-alcohol market, Salcombe Distilling Co. launched New London Light (NLL) in the US on January 1st, 2021.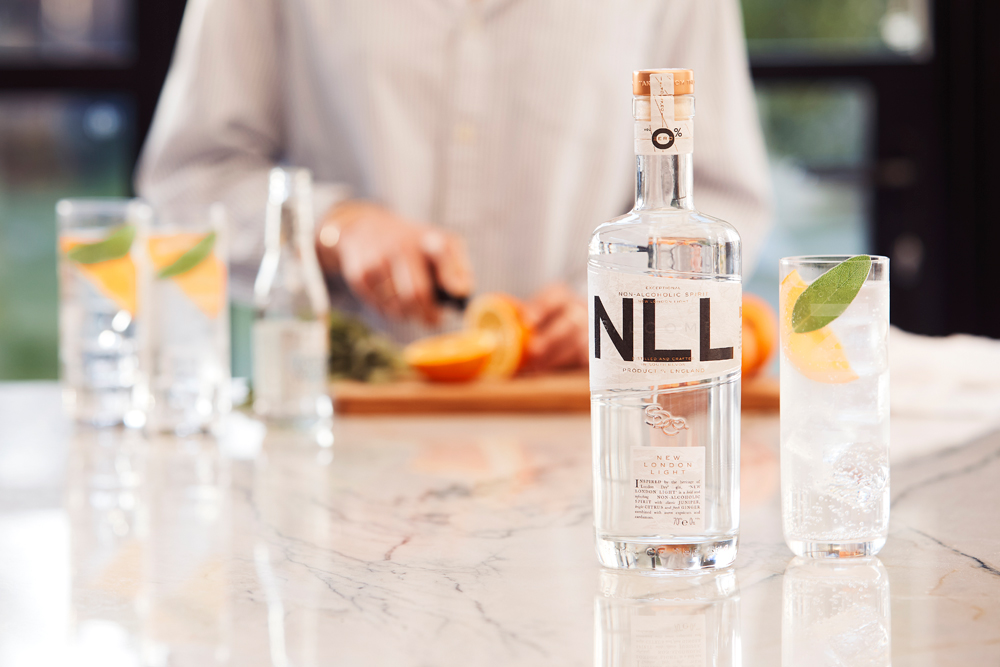 Developed by Salcombe Distilling's Master Distiller, Jason Nickels, NLL is a critically acclaimed, bold and refreshing non-alcoholic spirit. Created specifically by spirits experts for health-conscious drinkers and those who are mindfully choosing to reduce or change their alcohol intake, NLL is designed to inspire anyone to 'live light' without compromising on the aroma and flavor you would expect of a world class spirit. NLL draws inspiration from Salcombe Distilling Co.'s gin making principles and its rich history of exploration, creating a product that ensures the enjoyment of life's adventures with exceptional flavor and complete clarity.
To live light is to consume mindfully. Choosing less means gaining more. NLL provides drinkers with a purity and balance that can be found physically, mentally, naturally and socially with every sip. NLL quenches the curiosity and aspiration to consume mindfully in every aspect of one's life, complementing the healthiest of lifestyles without compromising the pleasure of a deliciously sophisticated drink.
NLL is crafted by first distilling three botanicals; rich Macedonian juniper berries, ginger and habanero capsicum. Fifteen additional botanicals are blended into the base liquid delivering complex layers with hints of citrus orange and sage. With its delicious full body, thirst-quenching zest and distinct flavor, NLL sets a new benchmark in the low and no ABV space.
Free of sugar and allergens, the 0% ABV spirit is also low in calories (<1 cal per fl oz) and vegan-friendly. NLL is made with all-natural ingredients chosen principally for their flavor characteristics and complementary health benefits. Juniper, cardamom, ginger, habanero capsicum, orange, sage, cascarilla bark and lemongrass are all loaded with nutrients and bioactive compounds that have powerful benefits for your body and brain. The prominent notes of orange in the signature serve not only provide a tangy citrus top note to NLL, but its high level of Vitamin C is great for your immune system. The additional garnish of sage, with its bittersweet earthiness provides an important balance to the flavor and is loaded with minerals, vitamins, and antioxidants to support brain function.
Inspired by the historic voyages of the Salcombe Fruiters, NLL offers a journey of discovery, remarkable flavor and clarity of mind. This new spirit from Salcombe Distilling Co., located in a former boathouse overlooking the clear waters and wild coastline of South Devon, celebrates Salcombe's maritime history. Named after an iconic lighthouse marking the entrance to the renowned deep-water harbor in Long Island Sound, New London Light was once a beacon for the crews of 19th century Salcombe Fruit Schooners trading cargoes of exotic fruits and spices with the Americas.
"A demand continues to surface and a new wave of excellence is breaking for quality non-alcoholic spirits," says Co-Founder of Salcombe Distilling Co., Angus Lugsdin. "We are extremely proud of the reputation we have built as an award-winning distillery and it was a natural evolution for us to apply our spirits expertise to the no-alcohol space. 'New London Light' is an opportunity to offer clarity of flavor and clarity of mind in a bottle. We hope to continue to share our passion for the sea and for great taste, with all drinkers, encouraging exploration and adventure of all kinds."
'New London Light' by Salcombe Distilling Co. is launching on January 1st, 2021 in NY, NJ, CT, RI, MA and NH. 'New London Light' is available to purchase online at BevMax.com and is available at select premium restaurants, bars and independent retailers.
Tasting Notes
NOSE A blend of bright orange citrus, aromatic cardamom and herbaceous rosemary and sage on the nose.
PALATE An aromatic and warming balance of juniper, ginger and habanero capsicum on the palate with fragrant bitterness from sage and cascarilla bark.
FINISH The finish is long and smooth with sweet orange and star anise, lengthened with floral coriander and lemongrass.
Shore Elevation
Shake things up with this delicious aperitif, 'Shore Elevation'. This is the perfect cocktail for impressing guests or an extra special treat. 'New London Light' is paired with a sweet sage and lemon sherbet, balanced perfectly with umami flavors of green tea. This combination emphasizes the herbaceous rosemary and coriander notes of NLL.
Ingredients:
1.5 oz 'New London Light'
1 oz Chilled, strong green tea
.5 oz Sage syrup*
.55 oz Lemon juice
.5 oz Aquafaba (chickpea juice)
Sage leaf to garnish
Ice
Directions:
Fill a Nick and Nora glass with ice to chill and set to one side. Add the 'New London Light', green tea, sage syrup, lemon juice and aquafaba to a cocktail shaker with plenty of ice and shake for 15 seconds. Remove the ice from the Nick and Nora glass. Double strain the mixture into the glass. Garnish with sage. *To make the sage syrup, mix together 1 cup of hot water, 1 cup of sugar and simmer until the sugar has dissolved. Add 3 sage leaves and leave overnight. Remove the sage leaves before use.