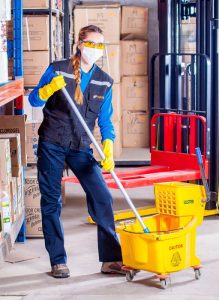 With hygiene and sanitation continuing to be one of the most essential parts of businesses reopening and restoring consumer confidence, on-demand hospitality staffing platform Jitjatjo introduces its newest program: CleanDisinfect.
CleanDisinfect is centered on supplying on-demand, certified cleaners to retailers, restaurants, hotels, and more in New York City, Chicago, and Washington D.C. The talent comprises of vetted, W2, COVID-19 accredited cleaners, janitors/custodians, and disinfection technicians who are available to help businesses meet new health and sanitation standards in accordance with state and local guidelines. The workforce is assessed, interviewed, trained, background checked, reference checked, and available 24/7 on-demand.
CleanDisinfect also offers real-time analytics on its performance and the location of its team supporting your business.
This is the latest example of CEO/founder Tim Chatfield pivoting the business model and being an innovator in labor models and staffing solutions. Previously, Jitjatjo had set up the #hirehospitality campaign to inspire various industries to look to hospitality professionals, like bartenders, for temporary staffing needs during the current global pandemic.
Now, its CleanDisinfect program aims to tackle the next problem faced by the hospitality industry.
The CleanDisinfect Three-Step Process includes:
Clean: A team of accredited professionals will start by cleaning the facility from top to bottom and corner to corner.
Disinfect: Using EPA registered, hospital-grade disinfectants, the team will treat every inch of the facility.
Protect: Once clean and disinfected, the team will then apply an anti-microbial coating to create an invisible barrier that will work to inhibit the growth of bacteria, viruses, and other germs.
CleanDisinfect employs Cleaning Management Institute (CMI) Certified Custodians and Global Biorisk Advisory Council (GBAC) Certified Microbial Warriors.
The program is eager to share its resources and services with businesses and organizations in the three regions it serves. It will create opportunity for cleanliness confidence, as well as get people working as talent is able to take on shifts ongoing.