Stella Rosa, the award-winning Italian wine brand, imported by California-based Riboli Family Wines, now offers non-alcoholic options to consumers. Just in time for those looking to imbibe less for Dry January or looking for a delicious alternative to alcohol, Stella Rosa Non-Alcoholics offers a non-alcoholic wine substitute to "Stellabrate" year-round. The Non-Alcoholic line-up is consistent with the original in that they provide semi-sweet, semi-sparkling Italian wine, made with real fruit flavors and are naturally gluten-free, vegan, and low-calorie.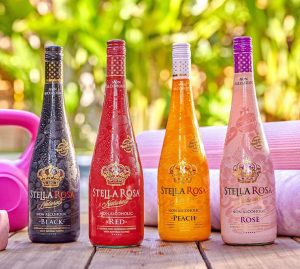 "Stella Rosa is always looking for innovative ways to give our customers the products they want and Stella Rosa Non-Alcoholics brings our delicious flavors to the non-alcoholic category." says 3rd Generation Family Member and Executive of Riboli Family Wines, Steve Riboli. "We are excited to share our beverages with those who are looking for an alternative option."
Each delicious (and guilt-free) Stella Rosa Non-Alcoholics beverage with 30% less calories than its alcohol counterpart, can be served chilled or over ice in your favorite cocktail/mocktail. The line comes in four of the most popular flavors, Stella Rosa Non-Alcoholic Black, Red, Rosé, and Peach. It's the perfect beverage for any time of day and for any occasion.
Flavors include:
Stella Rosa Non-Alcoholic Black (SRP $11): Complete with blackberry, blueberry, and raspberry notes, the palate is rich, with bright fruit flavors, and lingering finish.
Stella Rosa Non-Alcoholic Red (SRP $11): Featuring ripe raspberry, wild strawberry, and red plum flavors, creating a full, rich finish.
Stella Rosa Non-Alcoholic Rosé (SRP $11): A dazzling sparkling wine with notes of delicious strawberries and fresh rose petals.
Stella Rosa Non-Alcoholic Peach (SRP $11): Bursting with fresh fruit flavors of lush white peach and wildflower honey.
The wines can be found nationwide.
Born through a rich legacy, Stella Rosa remains at the forefront of innovation. Stella Rosa is not just about producing award-winning semi-sweet, semi-sparkling Italian wines, it's about evolving with the spirit of the times when it comes to wine trends and popular culture.